Boca Raton Landscape Makeover: Tropical Paradise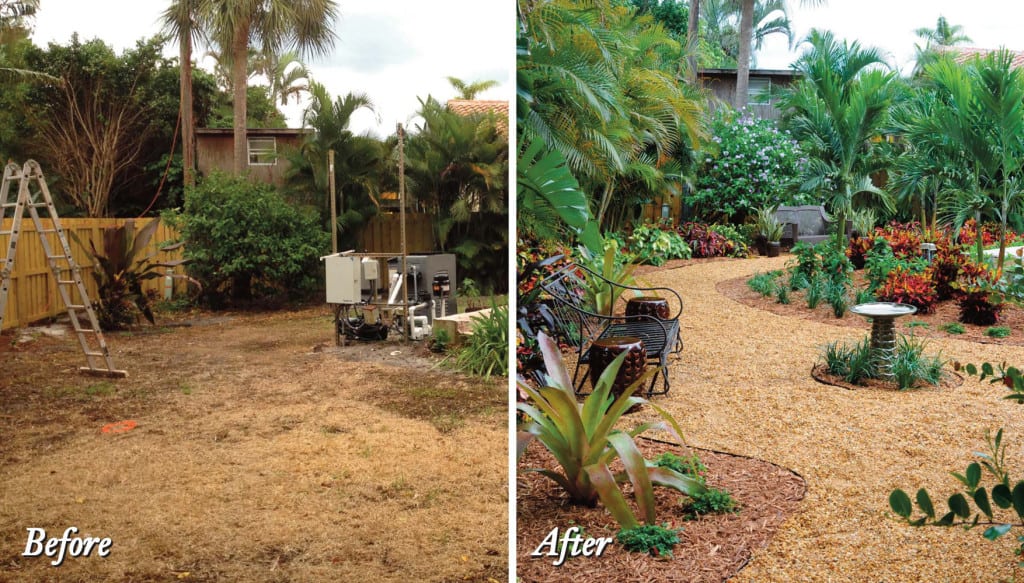 Take a walk with Pamela Crawford through one of her spectacular Boca Raton landscape designs in this short video. She turned an equipment-filled wasteland into the Boca Raton landscape makeover: a tropical paradise.
Look at the 'before' image and see that the focal point of this backyard is the pool equipment. This awkward location is great for the pool people, who didn't have to run pipes far to reach the pool, but bad from an aesthetics standpoint. The entire house overlooks this eyesore.
The first step in any makeover is to do away with eyesores. The pump was moved to a hidden location behind the garage and surrounded by hedges. Paths were laid in Chattachoochee gravel, which are popular in the town of Palm Beach. The owner of this property used to live in Palm Beach.
The pool deck was changed from pink concrete to beautiful travertine stone.
The highlight of the makeover are the plants. The homeowner had grown up in the Florida keys and wanted a tropical look. Palms and white birds of paradise form the tallest layer. The fine-texture of the palms contrasts with the large leaves of the bird of paradise. This leaf contract is the mainstay of tropical landscapes.
Since the homeowner wanted instant privacy, the mature palms were installed.
Tropical shrubs and groundcovers form layers under the palms. A huge yesterday, today, and tomorrow shows off it's purple flowers behind one of the benches. Many different crotons and bromeliads flaunt their bright colors and showy leaf shapes.
Eight glazed planters accent the garden. All of them share the same color and shape but vary in size. All are planted with sanseveria, or snake plants, one of Pamela's trademarks. The planters mark the entries to the paths and accent the pretty garden benches.
This garden is appropriate for all of Pamela's service are of Palm Beach County, including Boca Raton landscapes, town of Palm Beach landscapes, Palm Beach Gardens landscapes, Jupiter landscapes, and Wellington landscapes.