By Pamela Crawford
Since design is moving to a modern look, it is no surprise that I am getting more requests for clean-lined landscapes from my Boca Raton landscape clients.  Here are some of the results of those requests: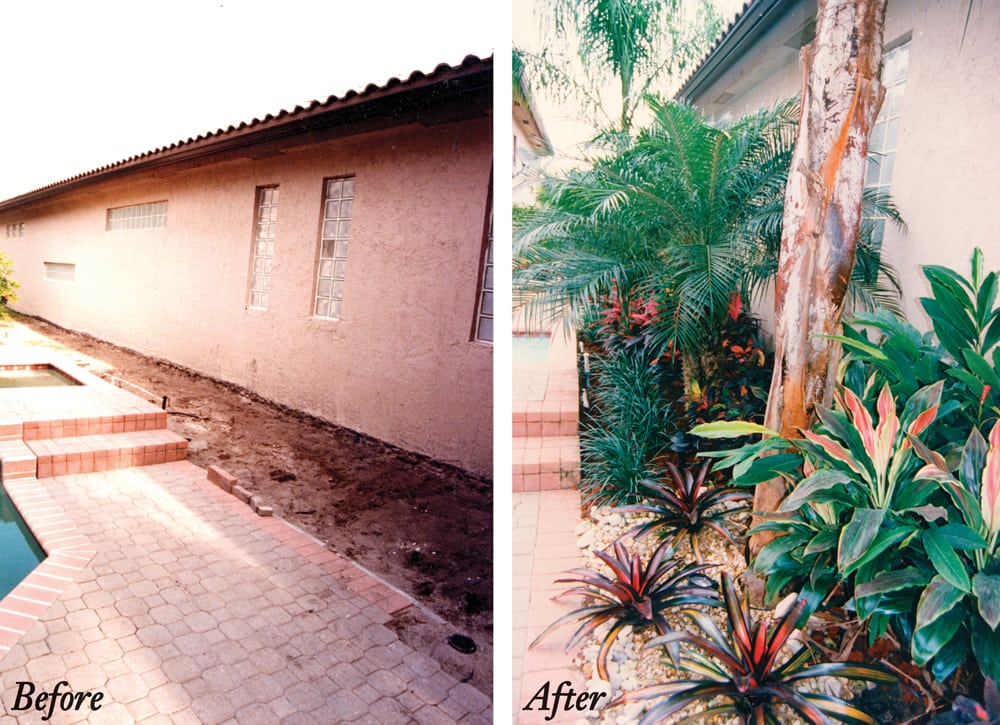 Like the first image, this landscape is part of a zero-lot line home, with walls being a predominant feature. The owner asked me to cover up the wall, and I suggested that I use it like an artist's canvas, painting a beautiful image with plants. Palms form the tallest layers and are underplanted with neat and tidy crotons, ti plants, and bromeliads.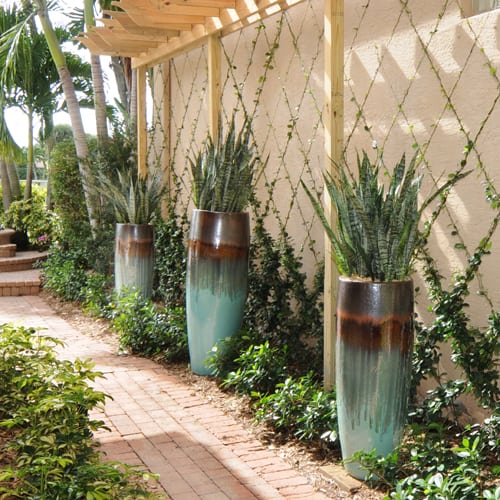 This modern container garden was planted shortly before this photo was taken. The vines will grow to cover the diamond pattern of the wire grid. This garden is visible from all the living areas of the home, and the owners wanted something simple but beautiful. The art pottery is planted with Sanseveria, which lives on just rain water in the wet, south Florida climate. The vines are confederate jasmine. 'Green Island' ficus completes the elegant look.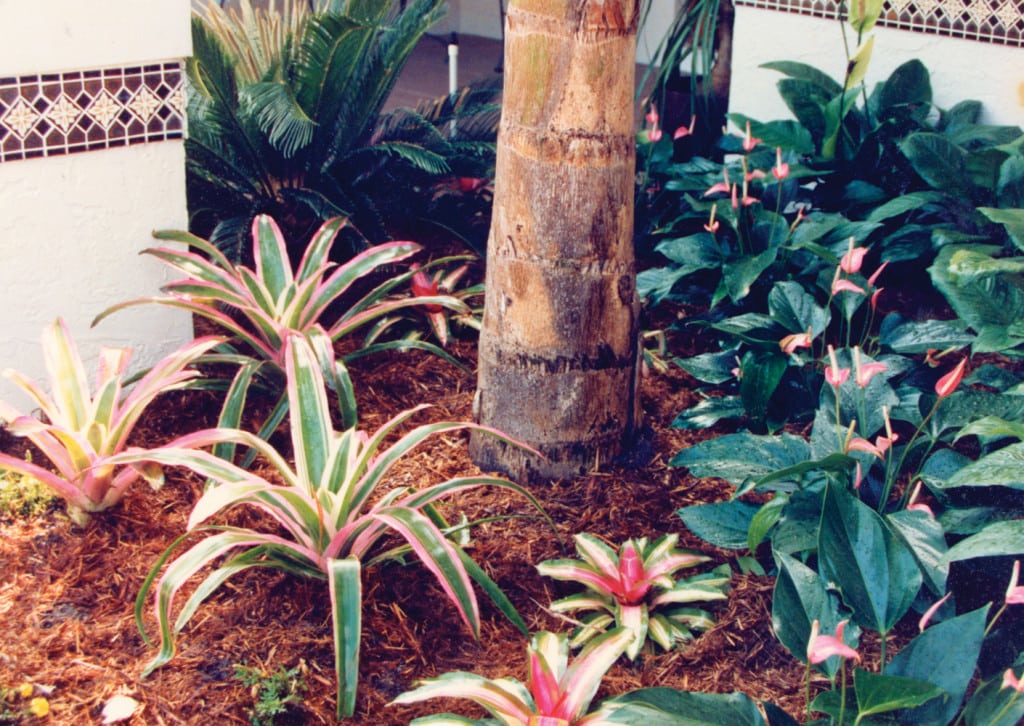 The combination of anthuriums and bromeliads creates a clean look in this shade garden.

The husband and wife  living in this Les Jardin home wanted different looks. He preferred a manicured look while she wanted tropical. I combined tropical vegetation that would stay neat with low hedges to accentuate the manicured look.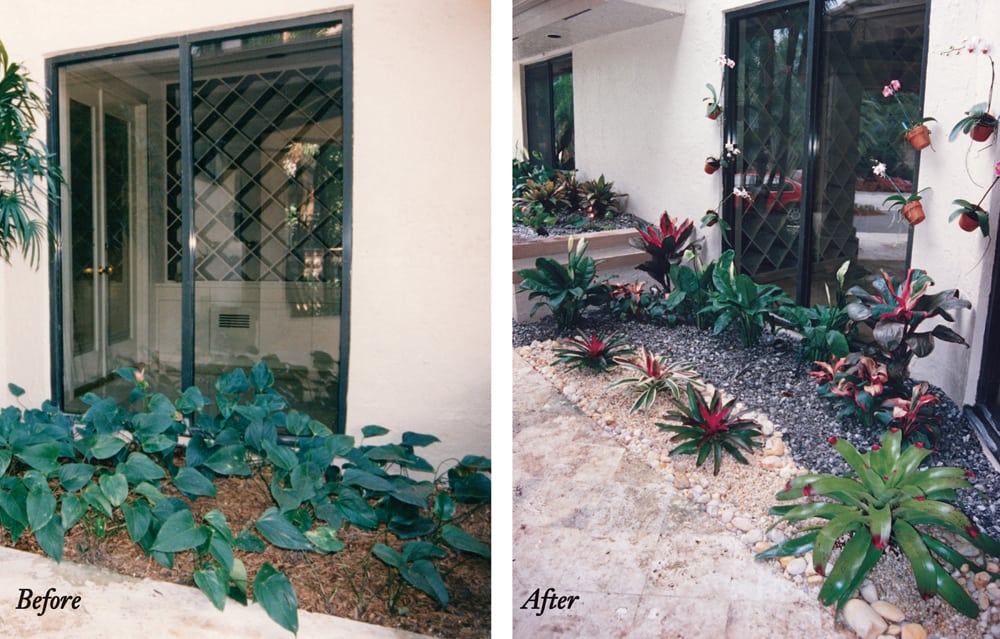 The owners of this Boca Grove home wanted a controlled, well-defined look to replace the wild plants in the 'before' shot. Bromeliads and gravel add definition and clean lines to this entry garden.

What a mess this pool was in this home located in the Sanctuary! The house had been vacant for a while and I was called in to make it beautiful. We removed all the old vegetation, planted large palms, and added tropical shrubs with a neat luck to complete the look.

This courtyard home features messy plants over pavement, which is not a good idea! I replaced them with tidy palms and tropical shrubs that don't make much of a mess on pavement.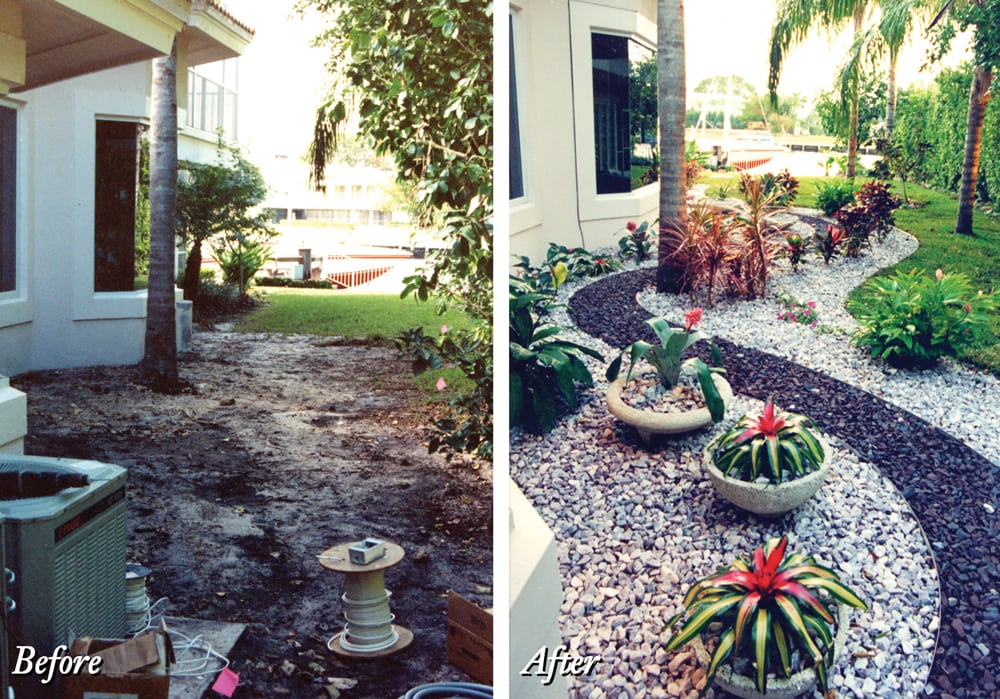 The client (on Spanish River Road along the intracoastal in Boca Raton) wanted a minimalistic look for this side yard. Since the living areas and kitchen of the house overlook this space, it was important for it to look great to the owners. They wanted just a few plants separated by gravel. I used two colors of gravel, forming an 'S' curve with the darker stone. The lines of that curve are repeated along the edge of the garden.  Neat plants accent the gravel.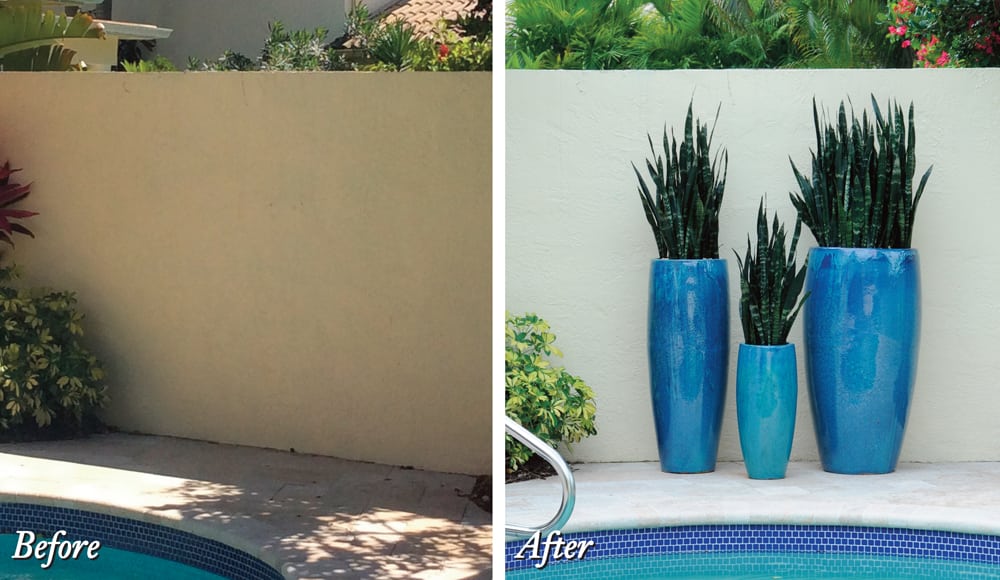 This container garden is located in the Polo Club, which is located in both Boca Raton and Delray Beach. Look at the difference just three, clean-lined pots make to this pool area!

The challenge of this design was a lack of space. The client wanted a high-impact, neat design in a bed that measured only two feet wide. We buried tall palms in the hedge, added French lattice in front, and planed a neat hedge around the focal point.
These designs are proof that it is possible to create a clean-lined landscape in a wild, tropical environment.
Pamela Crawford designs and installs landscapes in Palm Beach County, Florida. You can view her work at pamela-crawford.com. Contact her at 561-371-2719 or pamela@pamela-crawford.com. This article is appropriate  throughout Pamela's service area, including Boca Raton landscapes, town of Palm Beach landscapes, Palm Beach Gardens landscapes, Jupiter landscapes, and Wellington landscapes.