By Pamela Crawford
I began planting container gardens in the Palm Beach landscape for landscape design clients back in the early 1990's.  The rage then was mixed annuals in planters, most of which were located near a pool. Planter selection was limited to plastic or terra cotta – boring, to say the least. I attempted to paint terra cotta pots to add a bit of punch to container gardens, but to no avail. It always peeled off! A typical planting looked something like this: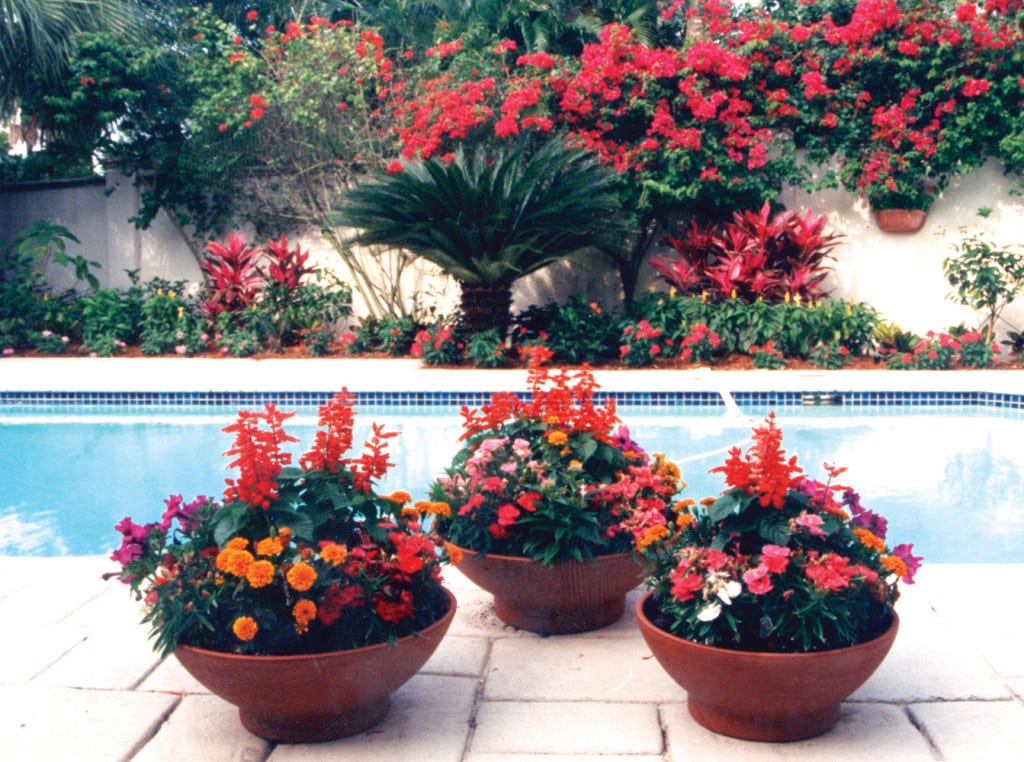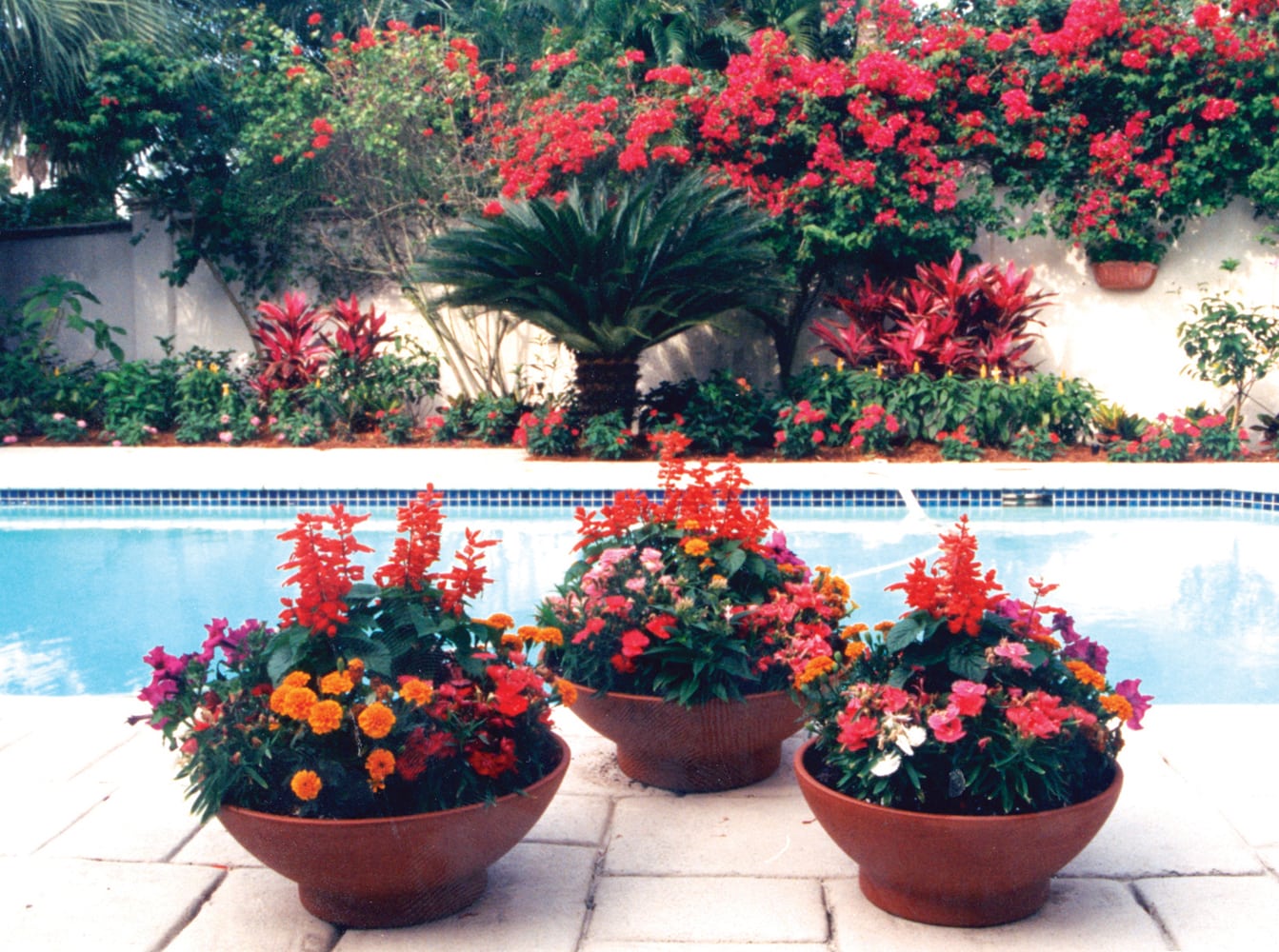 Even though  the pots were nothing to write home about, I used to really enjoy picking out the annuals. I would choose them myself, walking nursery aisles with my cart and choosing a tall flower for the center, surrounded by smaller ones.
In the late 1990's, glazed pottery came onto the scene and I was crazy about it. Suddenly, the pot itself became a color accent, some so beautiful that they became focal points in my garden.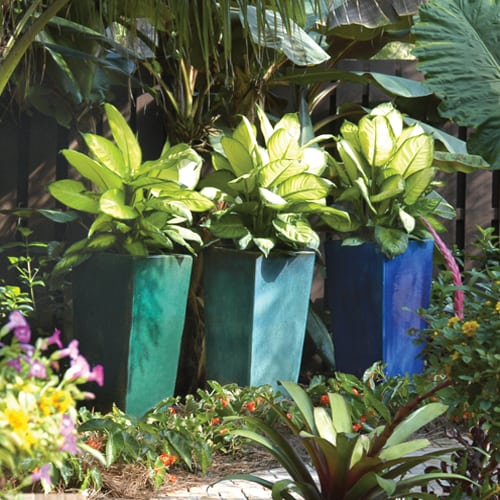 I learned quickly that the nicer the pot, the simpler the plantings. The three glazed pots (shown above) are so pretty when they are empty, that I just used common dieffenbachia in all three.
My first book on landscape plants for Florida was released in 2001. Luckily, it sold quite well, allowing the second book, also on landscape plants, to be released in 2003. I developed a close relationship with Barnes & Noble, and one of their managers suggested I write a book on container gardens for Florida. I hesitated because I didn't think there was enough material to write one whole book on container gardens – really, how many things can you do in a pot? But I valued my friends' at Barnes & Noble opinion, so I decided to travel to discover what was out there.
I traveled to both to resort areas – like Vail, Colorado and Victoria, Canada – and major cities, like New York, Chicago, and Los Angeles. Those trips exposed me to a whole new world of possibilities in container gardening, and led me to develop a fascination with the subject. I proceeded to write five books on container gardens, design a planter line (kinsmangarden.com), do several video series, and lots of television shows on the subject. Most major gardening magazines write about my container gardens routinely. I am constantly amazed at how much you can do with container gardens.
I would love to share with my Palm Beach County neighbors some container basics that could be useful to you.
1. Palm Beach County is one of the best places on earth for container gardening. If annuals (small flowering plants that last one season) are your choice, our winter season is perfect for them. Most annuals love the mild temperatures we experience from November to April. This six-month period is much longer than most other areas of the US offer. I lived in Georgia for six years. We had mild temperatures for about two months in spring followed by three months of blistering heat. So I planted cool-season annuals in April and replanted the same pots with hot-season flowers in June, and replanted AGAIN with fall annuals in September. In Palm Beach County, I plant my annuals in early November, and they usually last a full six months, until late April.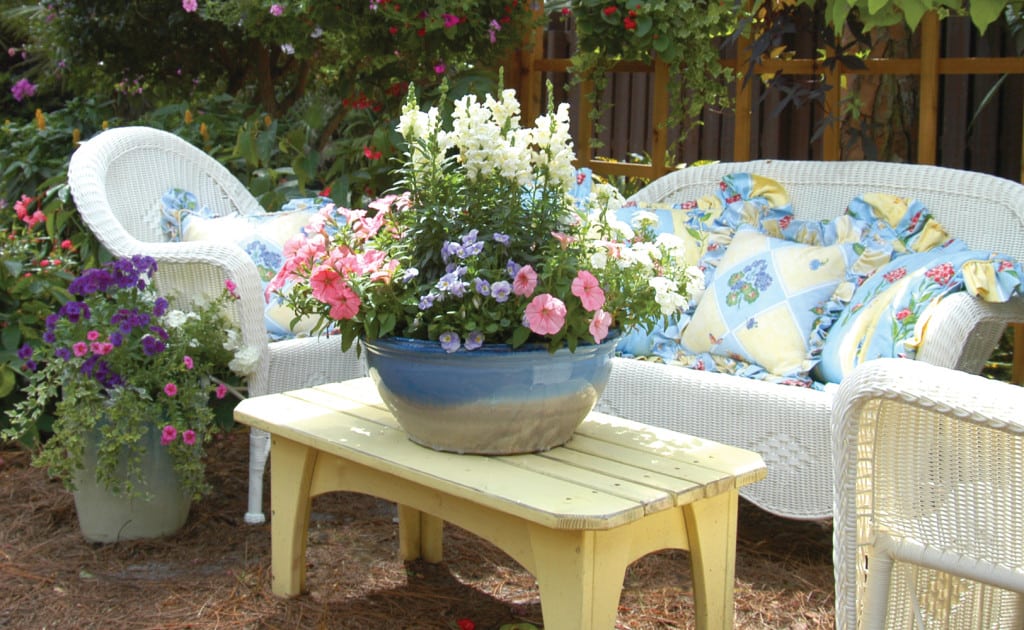 Above: This bowl is planted with cool-season annuals, white snapdragons, pink petunias, and purple violas, in the Palm Beach landscape.
Tropical plants are all the rage in container gardens everywhere. But they are double the price in most of the United States from the prices here in Palm Beach County. And, of course, since you seldom have to worry about freezes this far south, tropical plantings last much longer here than north of the freeze line.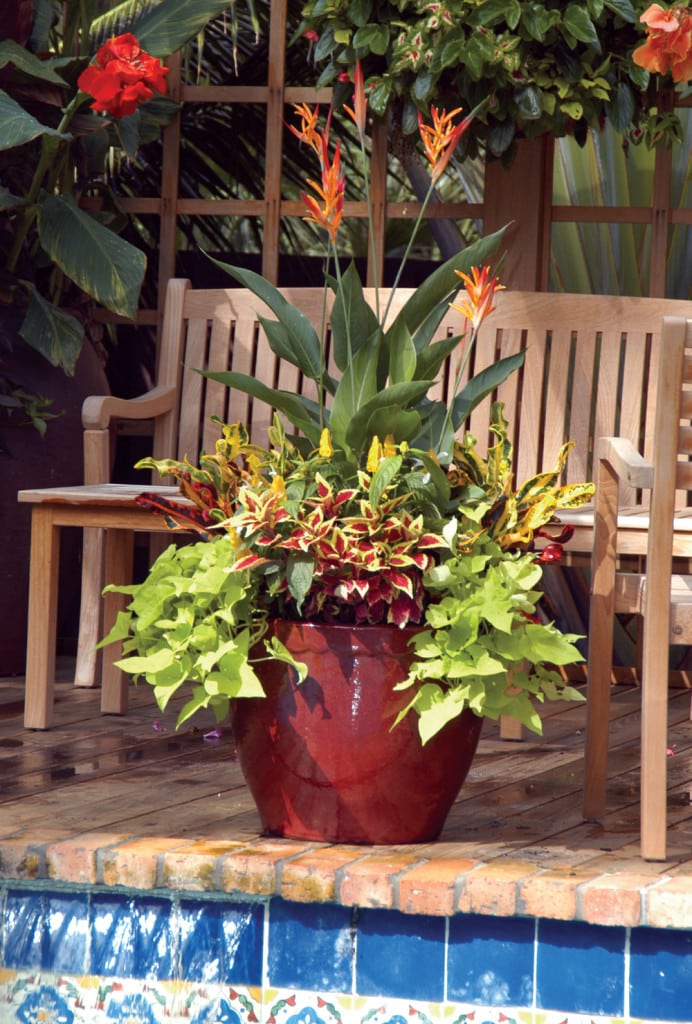 Above: Tropical plantings include heliconia as the tall centerpiece and bright-colored 'Mammey' crotons tucked in along the back edge. The coleus planted in front and the sweet potato vine cascading down the side of the pot are annuals, meaning they last one season in most of the country. In Palm Beach County, coleus and sweet potato vine frequently live a year or more.
2. Buy the largest planters you can afford! Large pots not only make a strong design statement in the Palm Beach landscape, they also provide a superior growing environment for the plants. Less watering is required and the plants live much longer in large pots.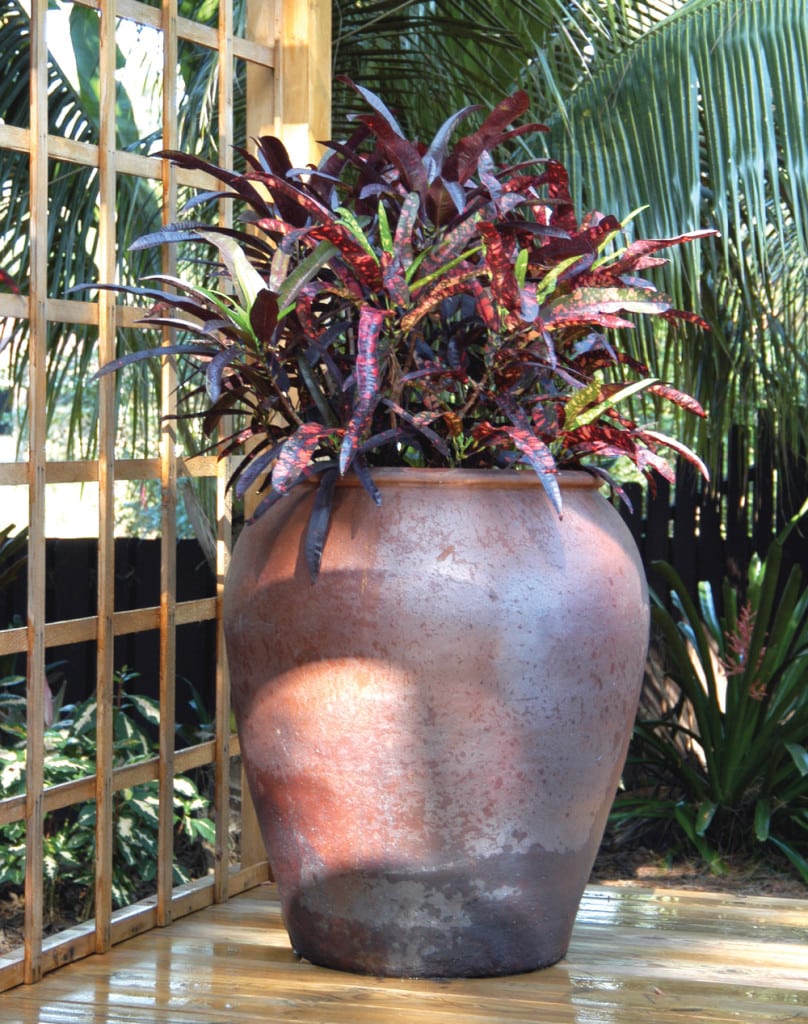 Above: This large planter measures a full three feet tall. The croton planted in it will last for many years in such a large pot.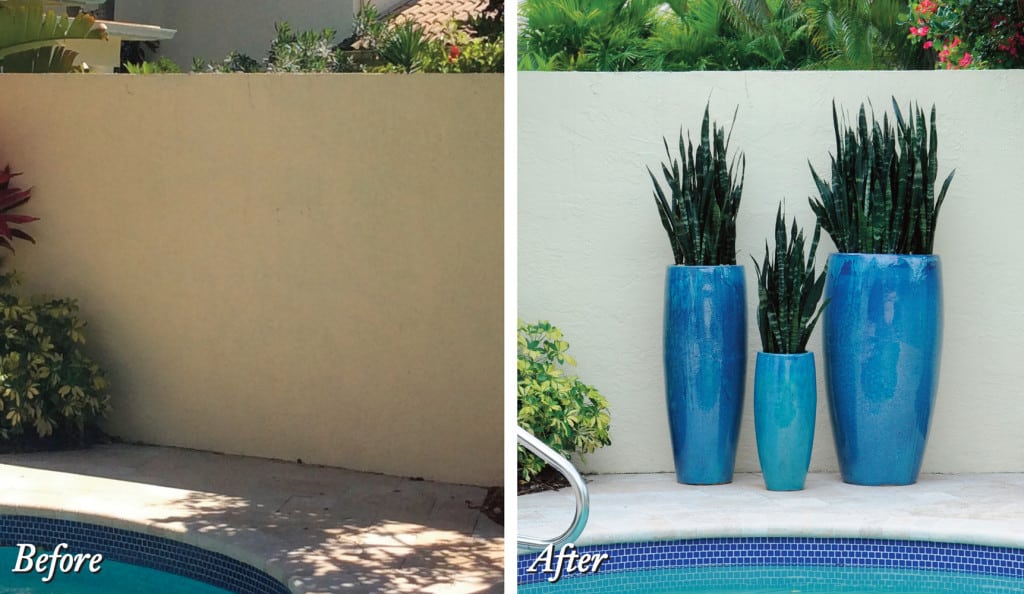 Above: Extra-tall pots planted with sanseveria. The largest one is 42″ tall.
3. If you decide to use small pots, stick to plants whose roots don't require a lot of space to stay healthy. Three plant types come to mind: bromeliads, bougainvillea (if you can stand the thorns and prolific flower-dropping), and succulents.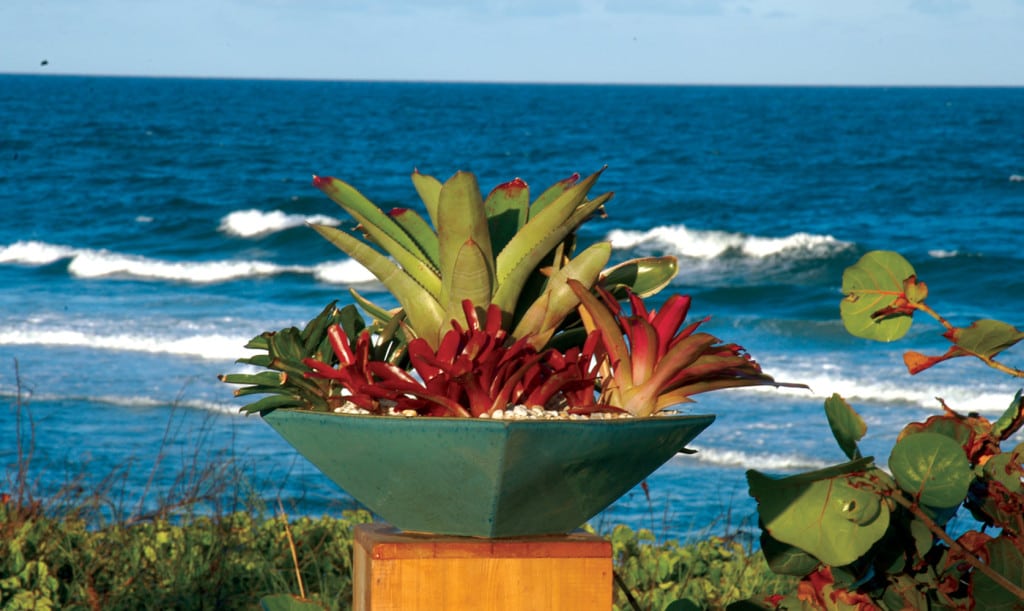 Above: Bromeliads planted in a small bowl will last quite a while because their roots don't demand much space.
4.  Use potting mix, not potting soil, top soil, or garden soil. When I changed from potting soil to potting mix, plant death in my creations went down by 90%! Potting soil, top soil, and garden soil are too heavy for most container plantings. They don't drain well enough, causing plant death.
5. Learn how and when to water. Water plants either when the soil feels dry to the touch when you insert you finger down about an inch, or the plants look wilted. Attach a watering wand or similar gadget to your hose – you want a gentle stream of water rather than a harsh spray. Move your hand in a circular motion so that the water covers the entire top surface of the potting mix. Keep watering until you see water coming out of the bottom drainage hole in the pot.
6. Don't be discouraged if you don't have time to water. Some Palm Beach County plants live on just rainwater. Succulents and sanseveria (snake plants) are two examples of drought-tolerant plants.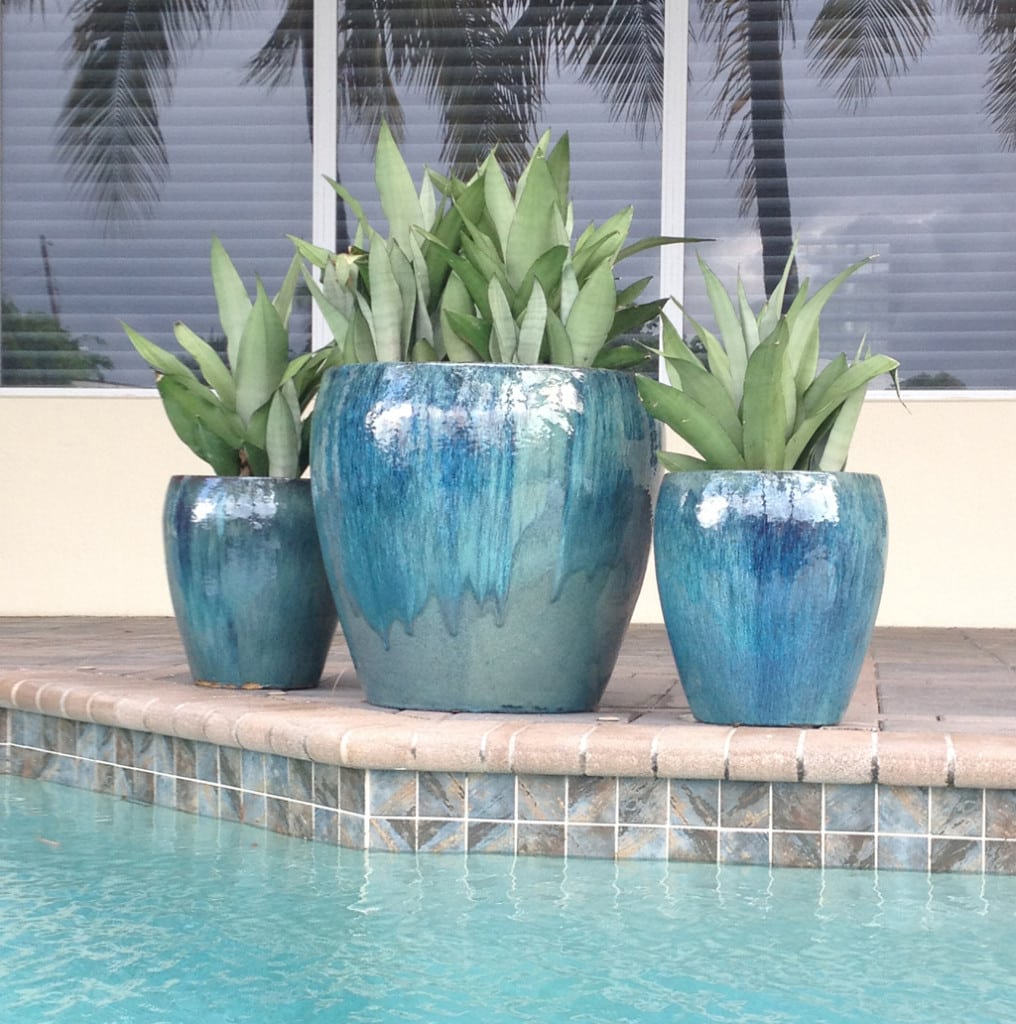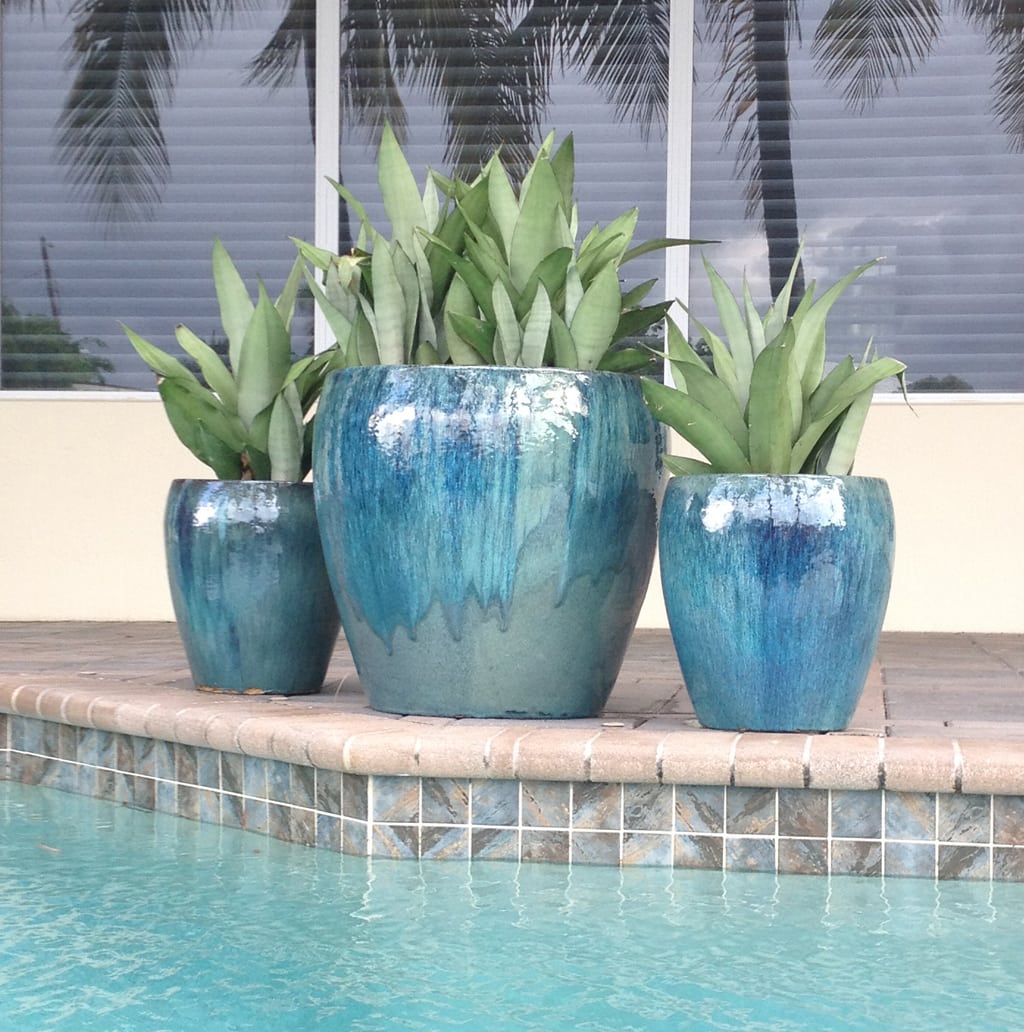 Above: Sanseveria in some beautiful glazed planters. This pot has been planted in Boca Raton for a year and never been watered with more than rainfall.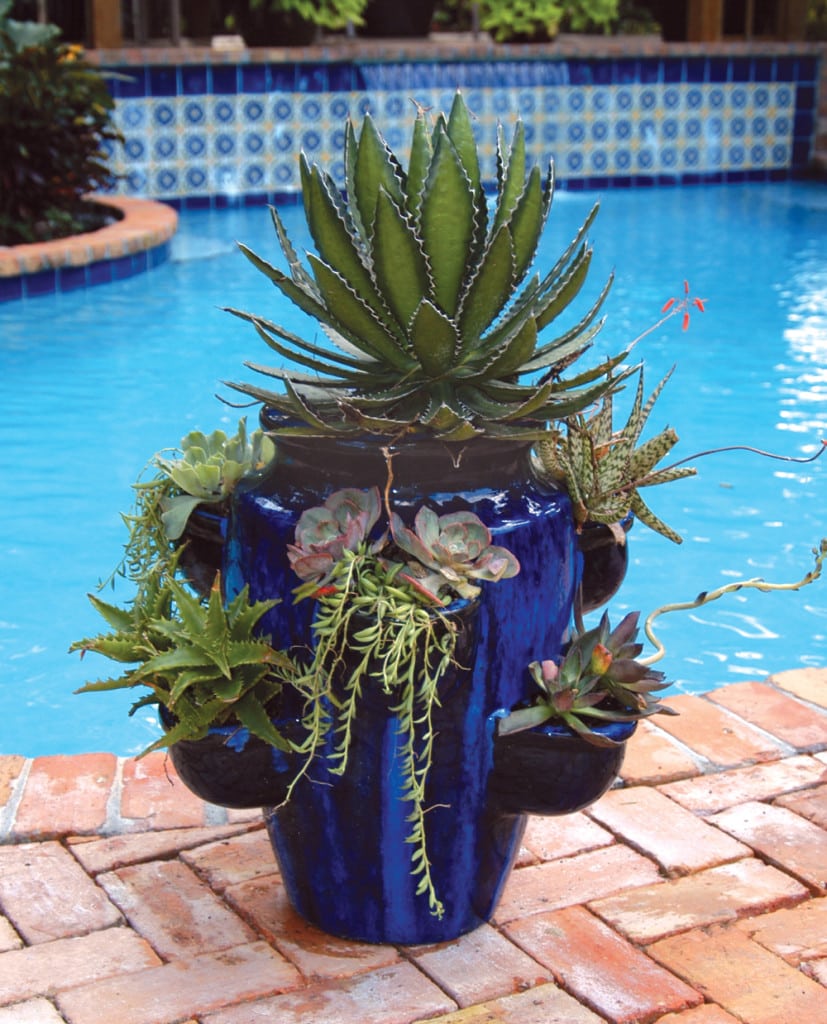 Above: Succulents are another good choice if your watering time is limited. Not all of them work well, here, however, so stick to succulents you know for large purchases. Luckily, lots of pretty succulents are low-priced, so it's inexpensive to buy a few and try them.
7. Plant your container gardens properly. The worst thing you can do is pile potting mix up around the stem of a plant. Watch my three-minute planting video.
8. Know your plants' light requirements. If a plant's label says full sun, that means a full 6 hours per day. Shade can be trickier. In the first chapter of my 'Easy Container Gardens' book, pages 34 and 35, I show you a test for determining the degree of shade your spot receives. Click here to see a 25 sample pages of the book. Click here for more info or to buy the book.
9. And don't forget vegetables! I wrote a book called 'Easy Container Combos: Vegetables & Flowers' to teach you how to make vegetables look good in containers (Click here to see a 25-page sample. Click here  for more info or to buy the book.  Since most Palm Beach County yards are small, you might not have the space to go out and plow the back forty grow a small farm. And since most parts of your yard are visible from your windows, why not make vegetables pretty?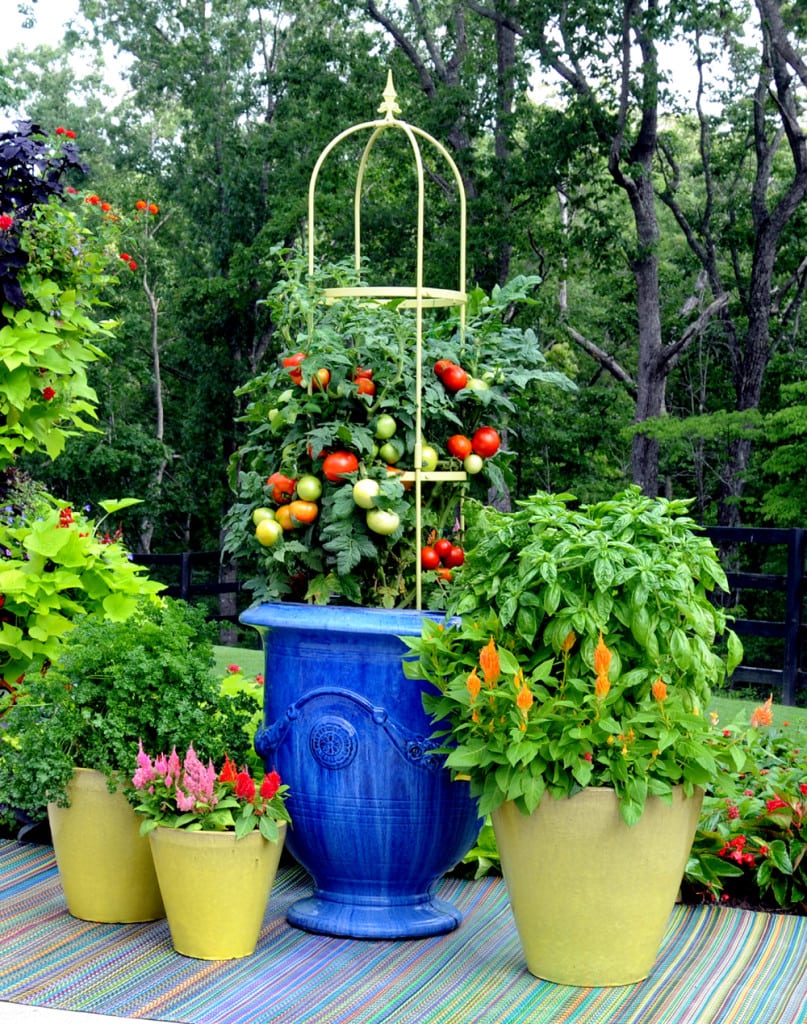 Above: 'Patio' tomatoes are planted in the large, blue pot. Basil, parsley, and celosia grace the smaller pots.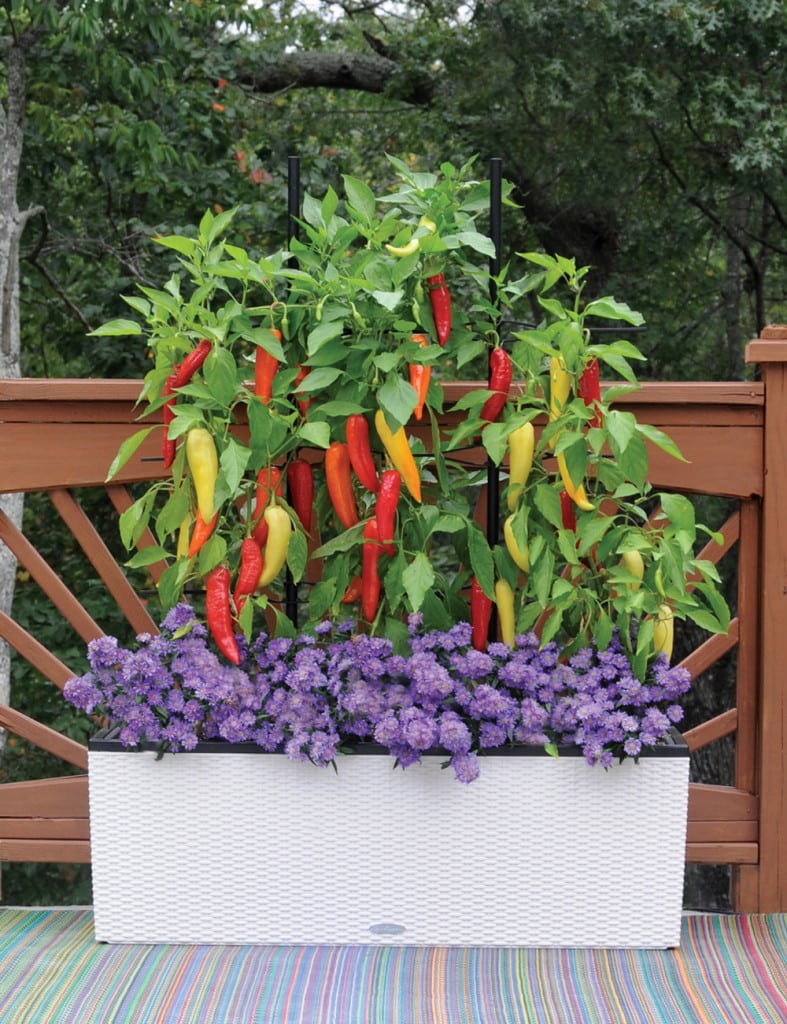 Above: Banana peppers are underplanted with mums.
If you decide to plant vegetables in Palm Beach county, be sure and download this free brochure from University of Florida, "Florida Vegetable Gardening Guide." This article is a great source of information about when to plant vegetables in south Florida.
I am currently designing gardens all over Palm Beach County. And although my services include design and installation of plantings, paving, furniture and outdoor accessories, and container gardens, it's the last catagory that is still my favorite. I hope you enjoy container gardening in Palm Beach County as much as I do!
Pamela Crawford designs and installs landscapes and outdoor living areas in Palm Beach County, Florida. Her services include plantings, container gardens, paving, outdoor structures, accessories, and furniture. You can view her work at pamela-crawford.com. Contact her at 561-371-2719 or pamela@pamela-crawford.com. This article is appropriate  throughout Pamela's service area, including Boca Raton landscapes, town of Palm Beach landscapes, Palm Beach Gardens landscapes, Jupiter landscapes, and Wellington landscapes.