Delray Beach Landscape Design: Courtyards & Patios
By Pamela Crawford
Outdoor living is an integral part of life in Delray Beach with most homes featuring courtyards or patios. Some homes are actually built around a courtyard, with all rooms sharing the view. These spaces are really important from a design standpoint because they are seen from so many different areas of the home.

This courtyard is visible from all rooms of the house. It really looked sad when I first arrived! And to make the situation worse, the planting area was only one foot deep – too narrow for most south Florida plants. I decided to use a strong, center focal point – French lattice – with a gorgeous piece of art pottery in front. The lattice motif is repeated with the two lattice pyramids on the ends. Angelwing begonias and shrimp plants complete the look.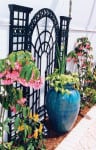 The glaze of the art pottery is translucent. Craftsmen in Asia put layers of glaze on the pots, which creates depth and interest.

This pool area also required adding impact in a tiny space. We planted coconut palms in the hedge, added French lattice in the center, and a birdbath in front. Plantings were kept quite simple.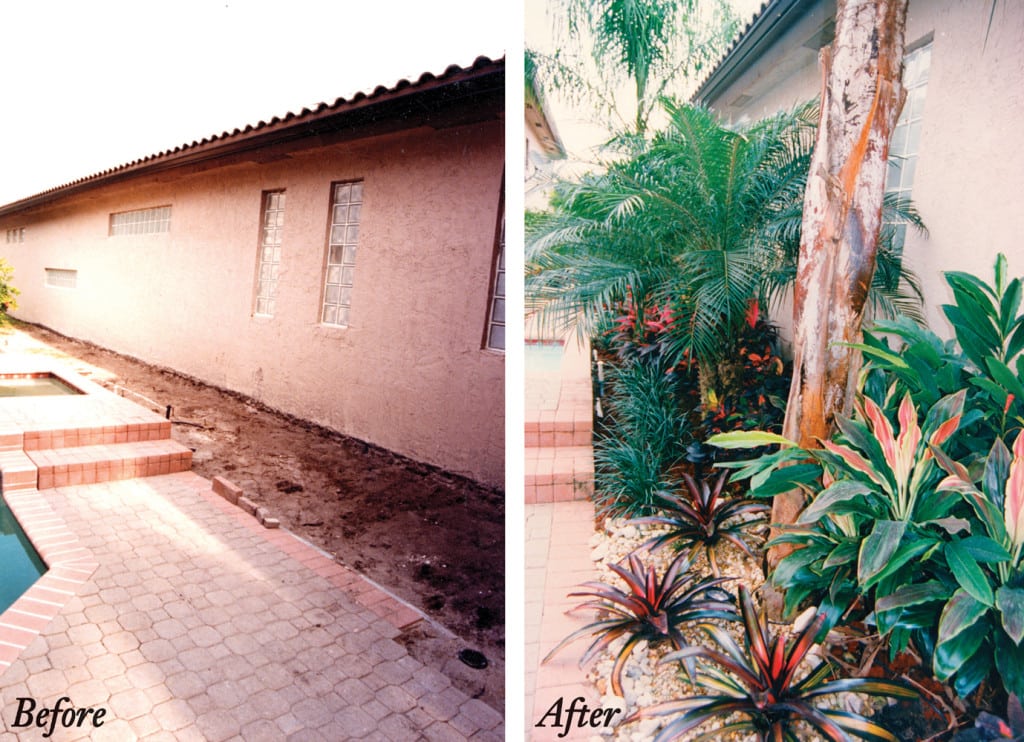 This narrow planting area is viewed from all rooms of the home. It is only four feet wide. I layered the plants, starting with tall palms down to small groundcovers. Bromeliads accent the gravel.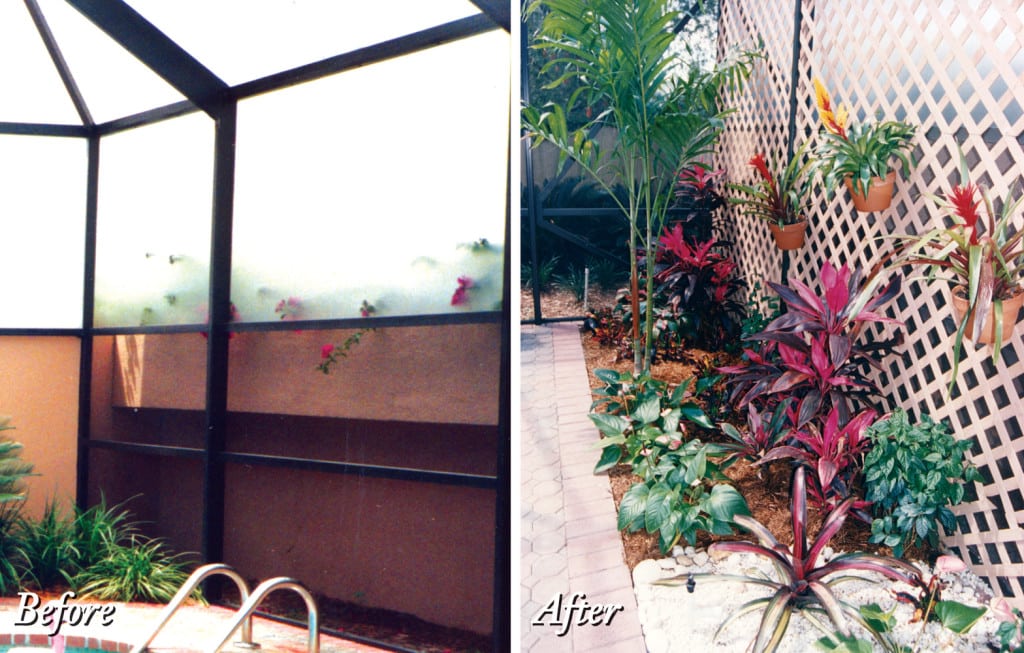 This Delray Beach courtyard featured a concrete wall, one foot of planting space, and then screening. We covered the screening with lattice to hide the dirty wall. Bright-colored tropical plants were planted in front and pots were hung from the lattice.

This photo was taken from the front door to this home. What a mess! Hibiscus trees were not a good choice over paving because they drop too many leaves and flowers. I replaced them with tidy palms surrounded by plants with colored leaves that don't shed to much.

This patio is viewed from most of the rooms of this house, and it was just blah. I spiced it up with bright pink ti plants (yes, there are new varieties that look great all year), crotons, and crown of thorns.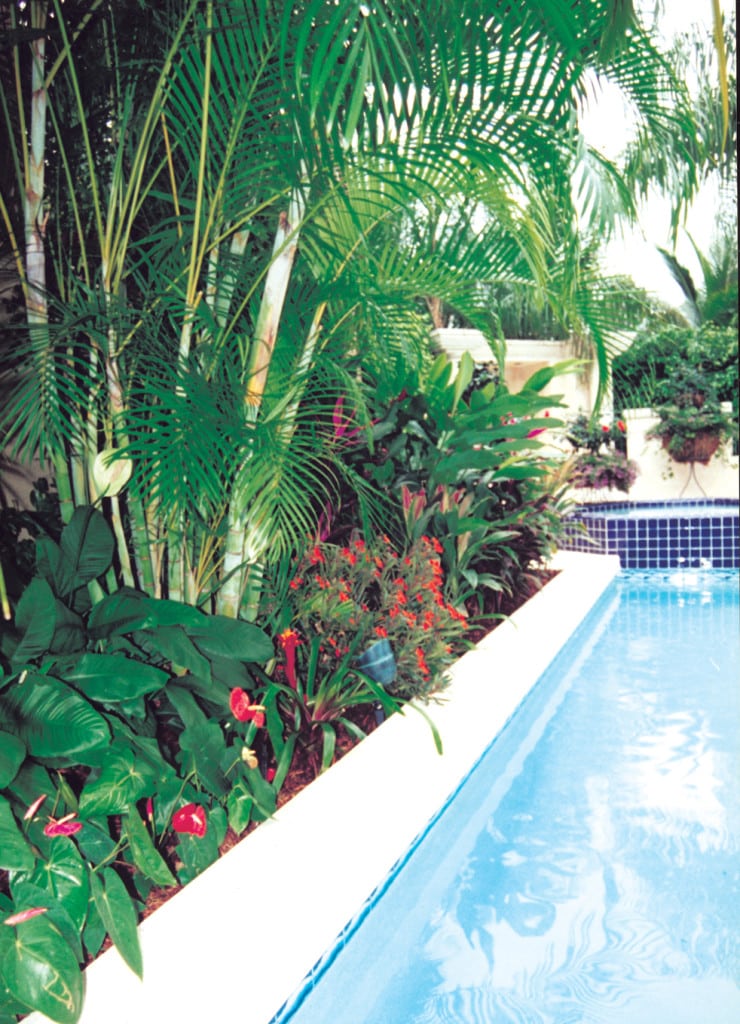 This pool area was planted with tall ficus shrubs that were damaging the pool with their invasive roots. We removed the ficus and replaced them with tall palms. Short, colorful groundcovers were planted at the base of the palms. This photo was taken the day after planting!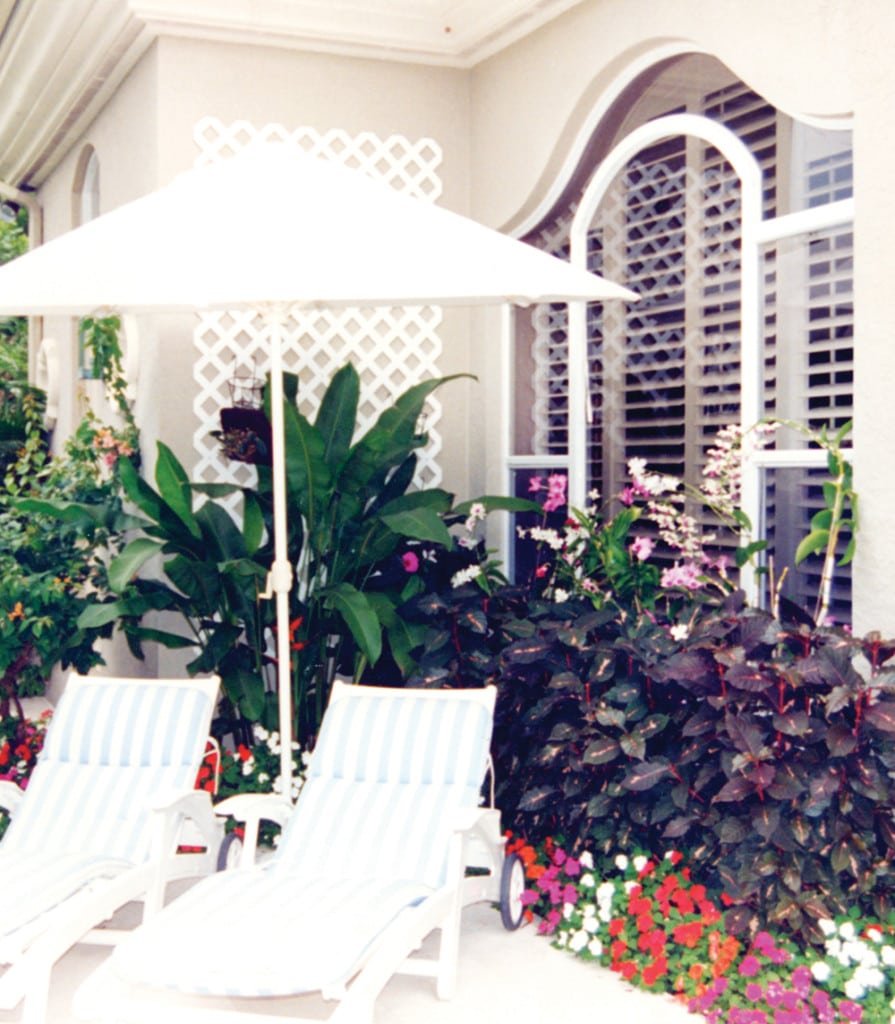 The master bedroom window overlooks this corner of the same patio. We attached a fiberglass window box under the window and placed the orchids inside the box so that the view from the bedroom would be absolutely gorgeous. Caricature plants and impatiens were planted front.
I seldom plant bougainvillea over paving because it drops a lot, but this homeowner had a lot of help and didn't mind the mess. This kitchen window frames the view that is filled with flowers. The window box is planted with shrimp plants and impatiens.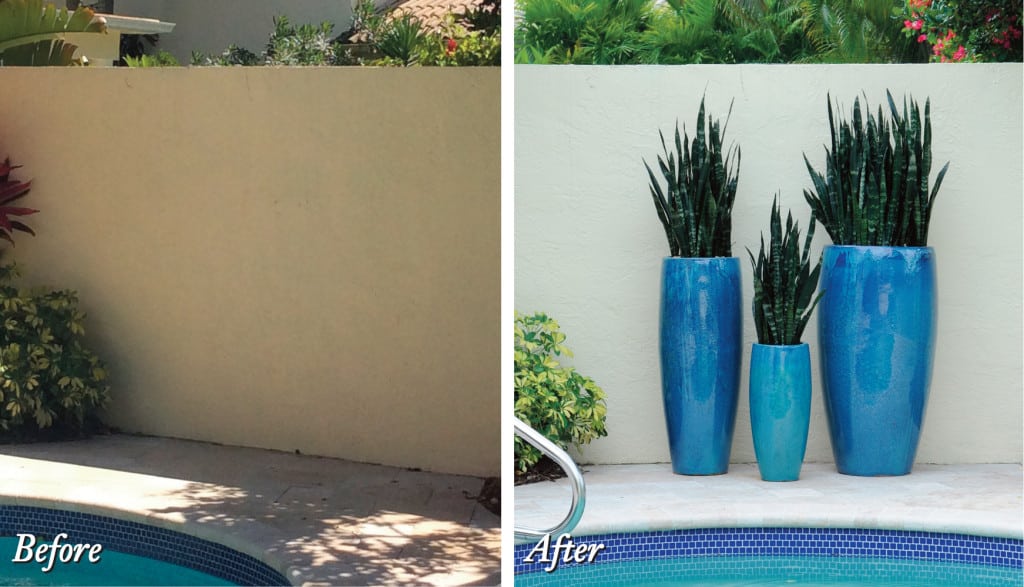 Look at the difference a few pots make in this Delray Beach (Polo Club) patio. I took a photo of the pool tile and water to a pottery distributor to find a glaze that incorporated the different blues. The pots are planted with Sanseveria, or snake plants. These plants don't require supplemental irrigation in south Florida. They live off just rain water.
The tallest of these three pots measures a full four feet tall. Large pots create major impact in a courtyard or patio.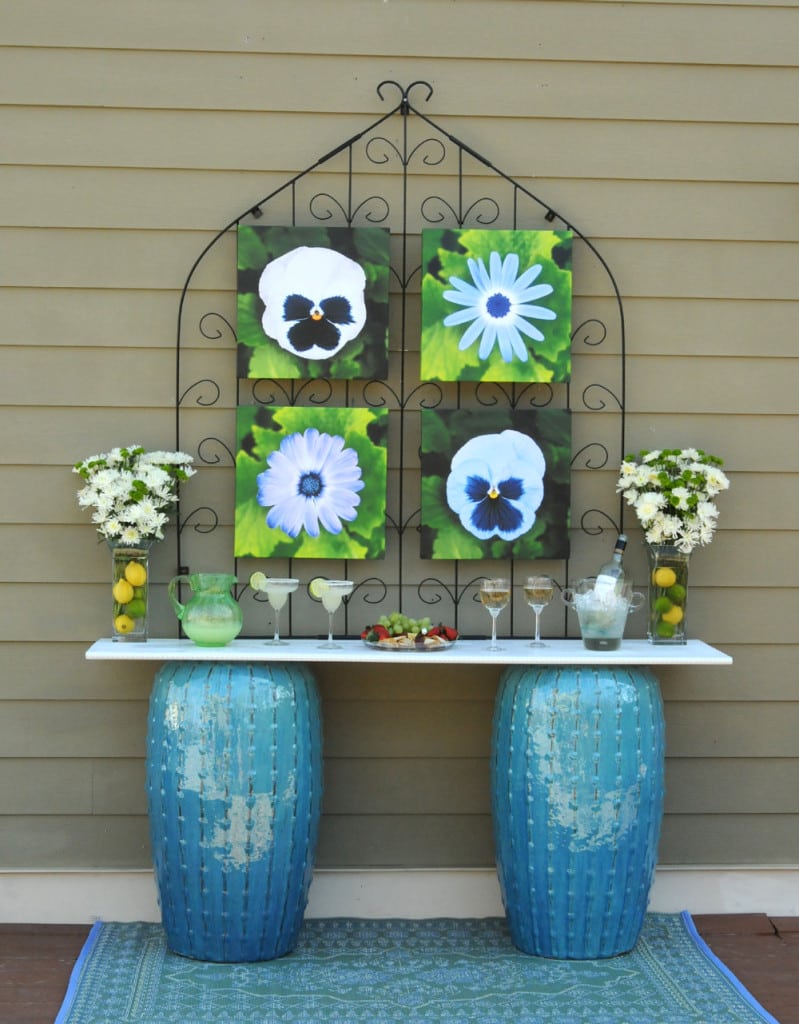 This bar is made from two fountains covered with a wooden top (I'll use marble or granite next time!). A rust-resistant trellis forms the backdrop, covered with outdoor art.  The rug is also designed for the outdoors.
I hope you have gotten some ideas for your own home from seeing these designs.
Pamela Crawford designs and installs landscapes in Palm Beach County, Florida. You can view her work at pamela-crawford.com. Contact her at 561-371-2719 or pamela@pamela-crawford.com. This article is appropriate  throughout Pamela's service area, including Boca Raton landscapes, town of Palm Beach landscapes, Palm Beach Gardens landscapes, Jupiter landscapes, and Wellington landscapes.