By Pamela Crawford
Walls are very much a part of the Palm Beach landscape. Zero lot line homes frequently have all of their windows overlooking some else's wall. Courtyard homes are surrounded by walls. Fences, another type of wall,  are also commonplace in the Palm Beach landscape.
I am frequently called in to design outdoor living areas and landscapes that include walls. Most clients initially ask me to 'Cover up that ugly wall.' But I won't just cover it up, I'll use as artist would a canvas, using the wall background for a beautiful accessory or planted area. I look at it as creating a piece of living art, framed by your window.
The easiest outdoor 'wall covering' are beautiful planters. The effect is instantaneous.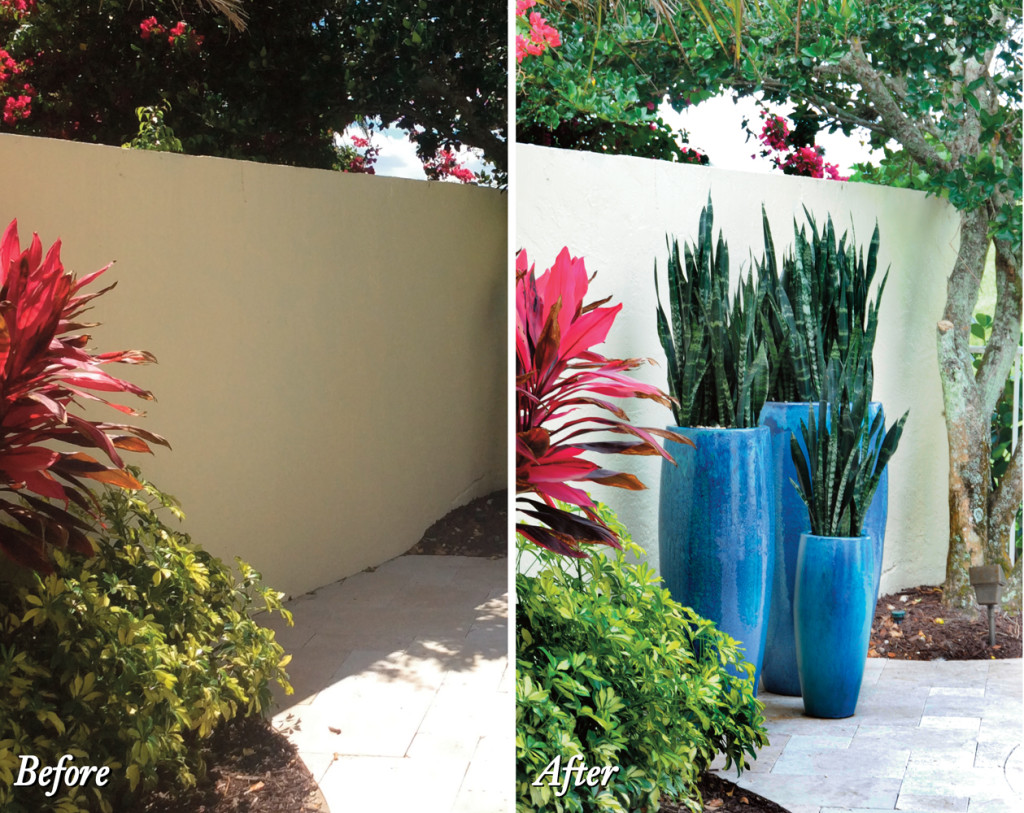 Above: Look how much better this wall in the Polo Club, Delray Beach, looks with just three stunning, glazed planters. They are planted with simple sanseveria that survives on just rainwater in the Palm Beach county landscape.
Adding a background for planters is a great idea for larger walls, like this one in Addison Reserve in Delray Beach.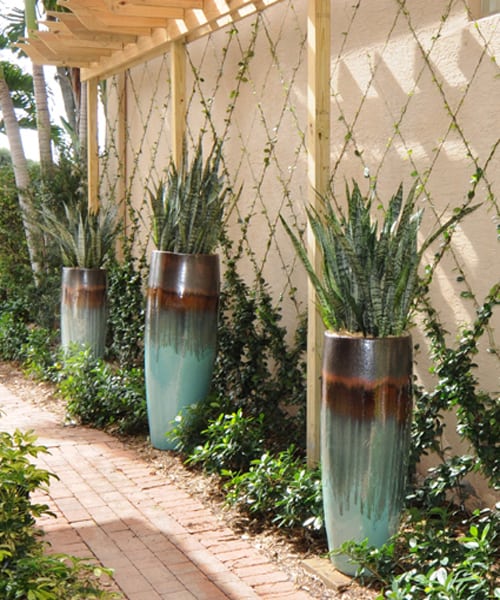 Above: The clients wanted a clean-lined look. A trellis was constructed with wire hung from the uprights to create a diamond pattern for vines. This photo was taken shortly after planting. Within a few months, the wires were covered by the vines. Once again, the planters are simply planted with sanseveria.
Many different types of wall planters are available.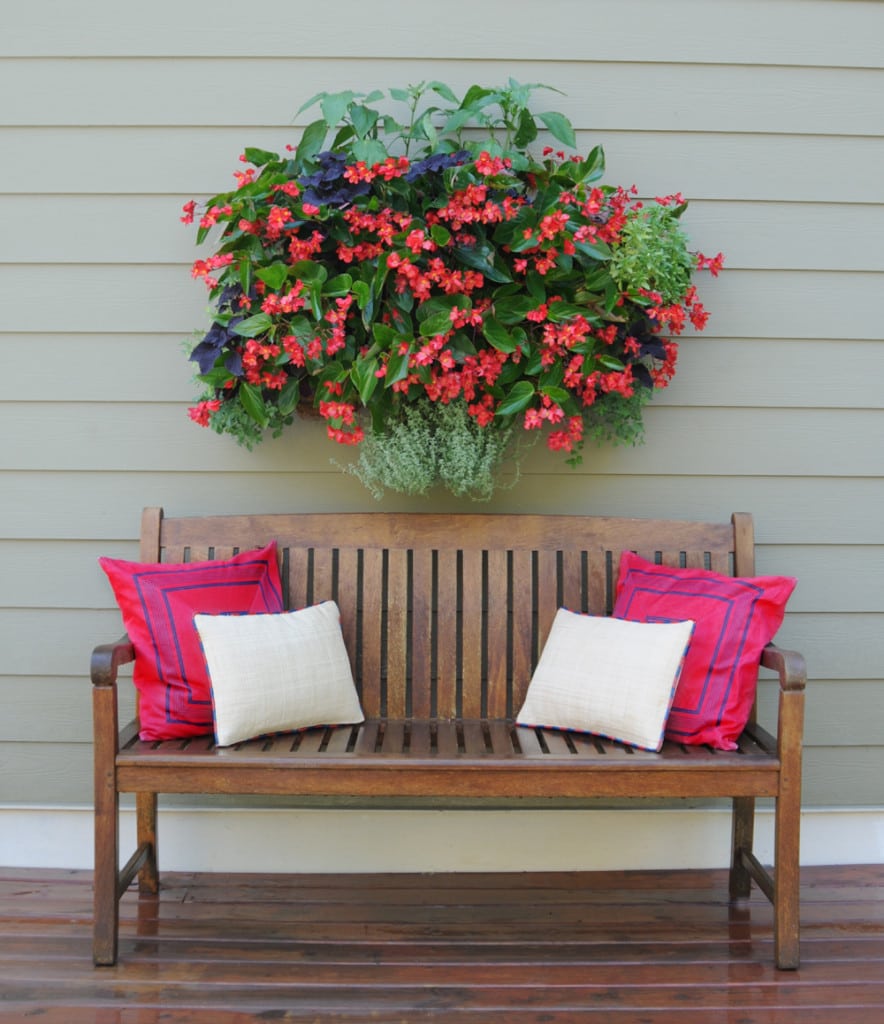 This wall planter is planted through the sides as well as the top (side-planted). Click here to see a short video describing this process. Red dragon wing begonias (which do beautifully in the Palm Beach landscape) along with coleus and herbs are planted in the side holes and along the top edge. A pepper plant is planted in the center of the top.
Wall planters can be hung alone on a wall or backed up by a trellis.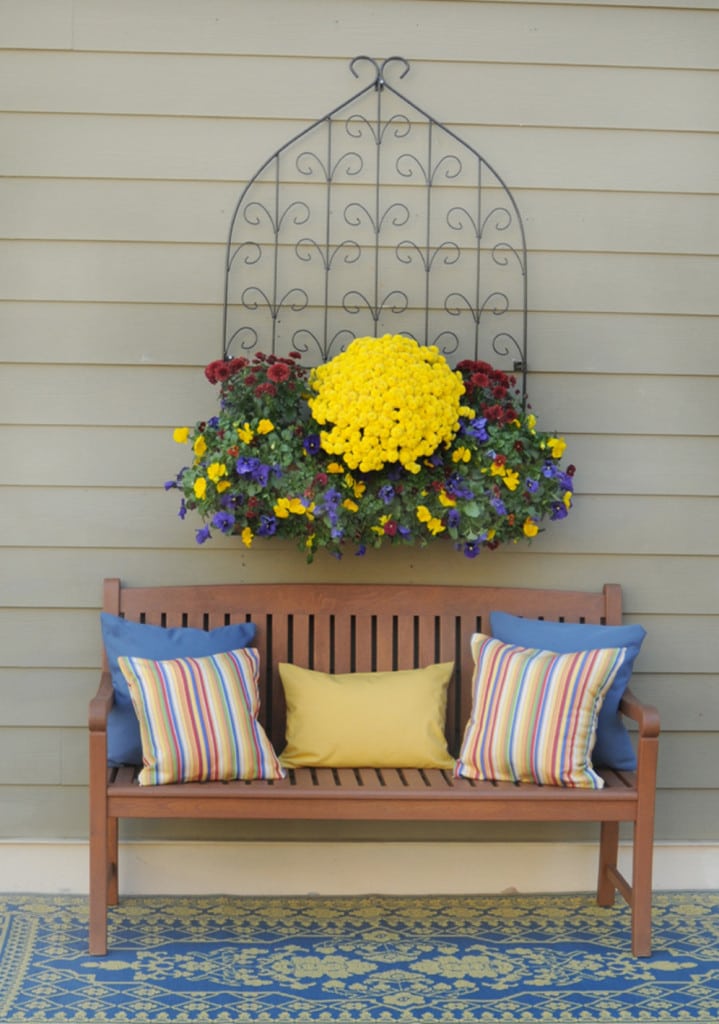 Above: This trellis is hung behind a window box that is side-planted (kinsmangarden.com). The window box is planted with mums and pansies.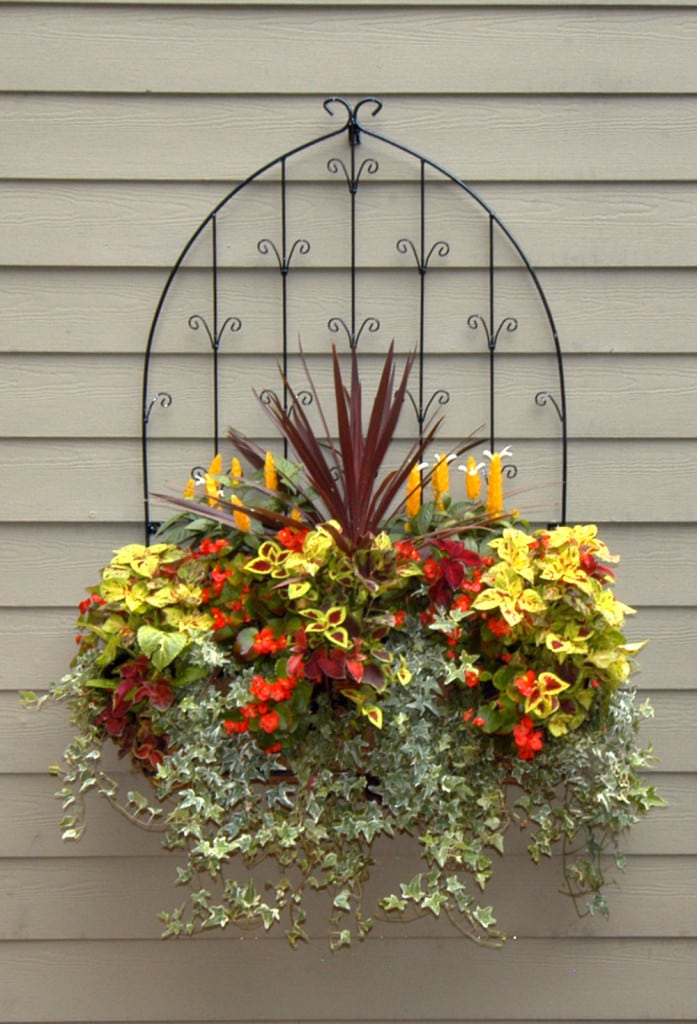 A ti plant surrounded by two shrimp plants grace the center of the planter. Coleus, ivy, and begonias are planted in the side holes as well as along the top edge (kinsmangarden.com).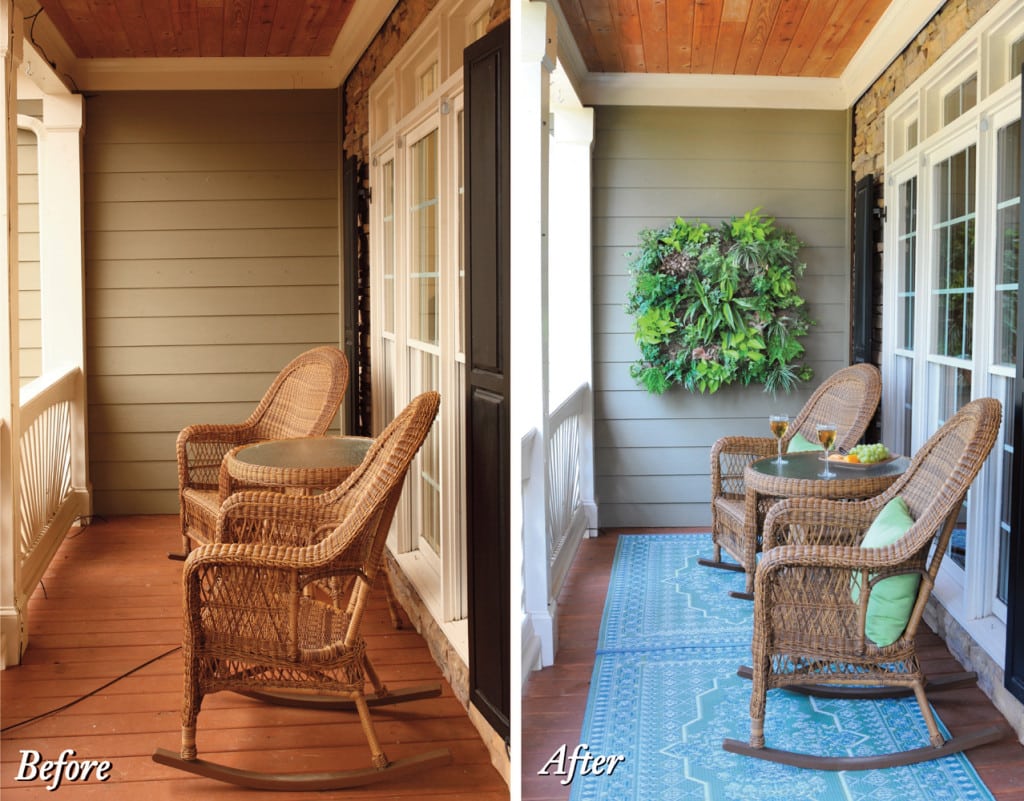 Above: Living wall planters are a relatively new concept in planting on walls. I used four living wall planters on my porch in Georgia (kinsmangarden.com). To learn more about living walls, click here to download my free, 32 page 'Living Wall Guide.'
Barbara Hadsell (my assistent) and I planted quite a few living wall planters in Palm Beach county when were were preparing the 'Living Wall Guide.'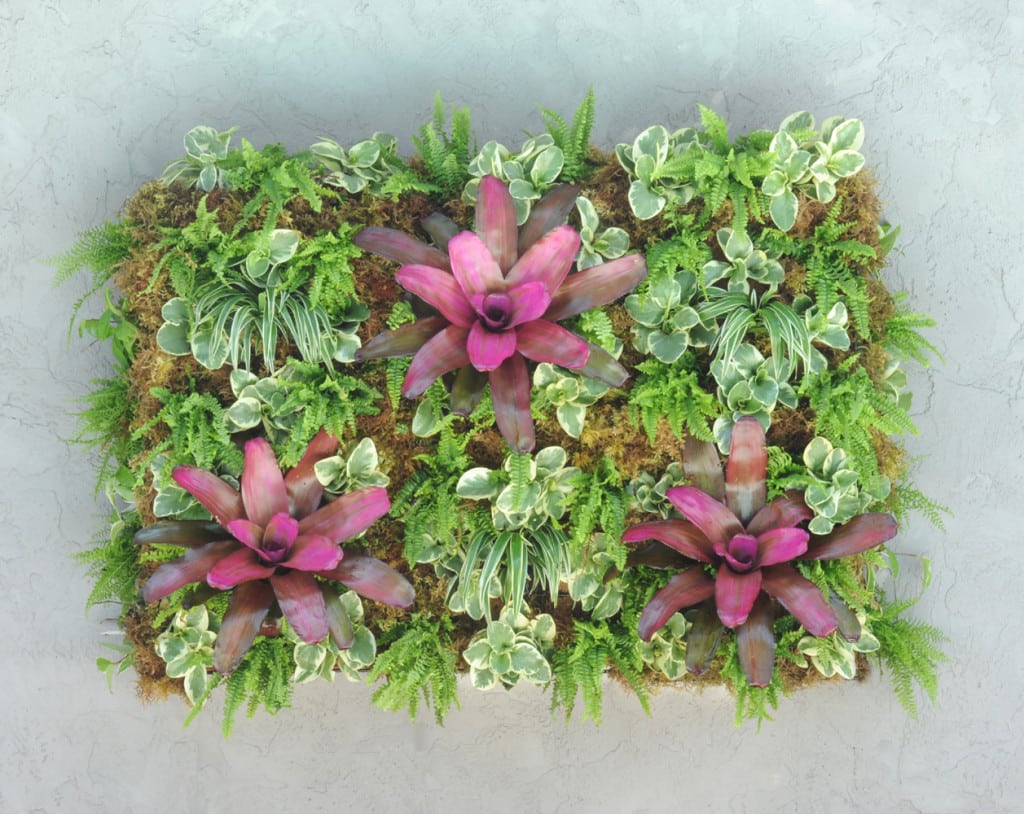 This arrangement features six planters hung as a rectangle. Bromeliads form the focal point. They are surrounded by variegated peperomia, ferns, and spider plants.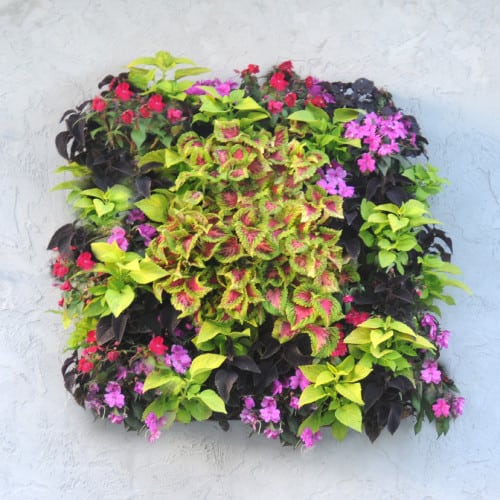 Above: This living wall is four planters hung in a square (kinsmangarden.com). 'Kong' coleus forms the centerpiece surrounded by New Guinea impatiens and coleus.
Outdoor art is another new trend.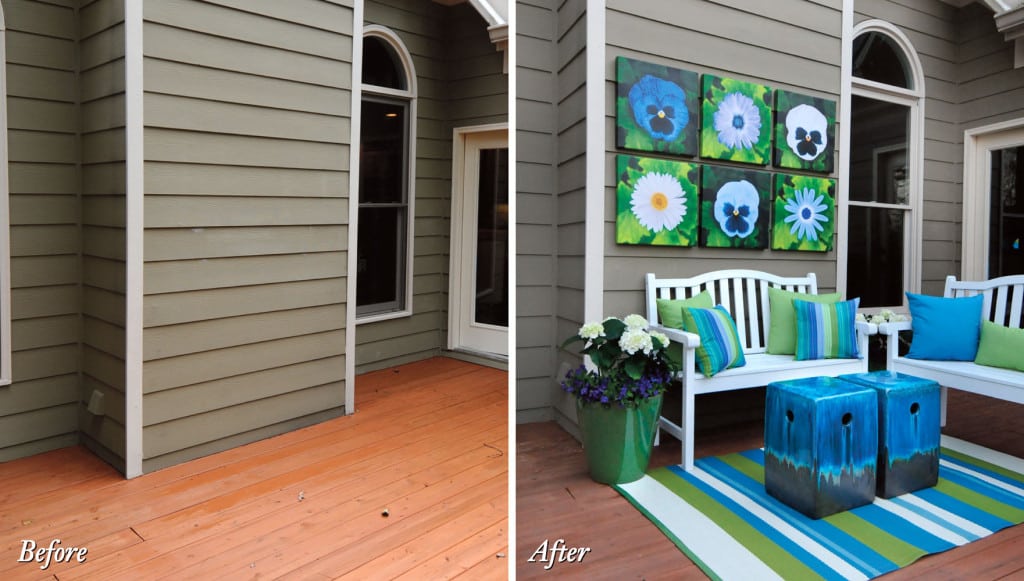 Above: These flower photos are resistant to moisture, like humidity they would receive in the Palm Beach landscape. They won't take direct rainfall or sunlight. It is quite important to ask about a product's warranty prior to buying it for outdoor use. Many products are labeled for outdoor use, but won't last long at all in the Palm Beach landscape.
Creative plantings planted in the ground in front of walls can be lovely.

Above: This wall located in the Sanctuary in Boca Raton was quite stark when I first saw it. There was no room to plant, so we removed enough pavers in front of the wall to create a planter area. Palms, surrounded by ti plants and hibiscus, softened the wall.

 Above: The same palms were planted in the pool area, which is the other side of the first wall shown above. Look how much nicer the pool looks in the 'after ' photo!
Fences are another form of wall. I frequently use creative plantings in front of fences.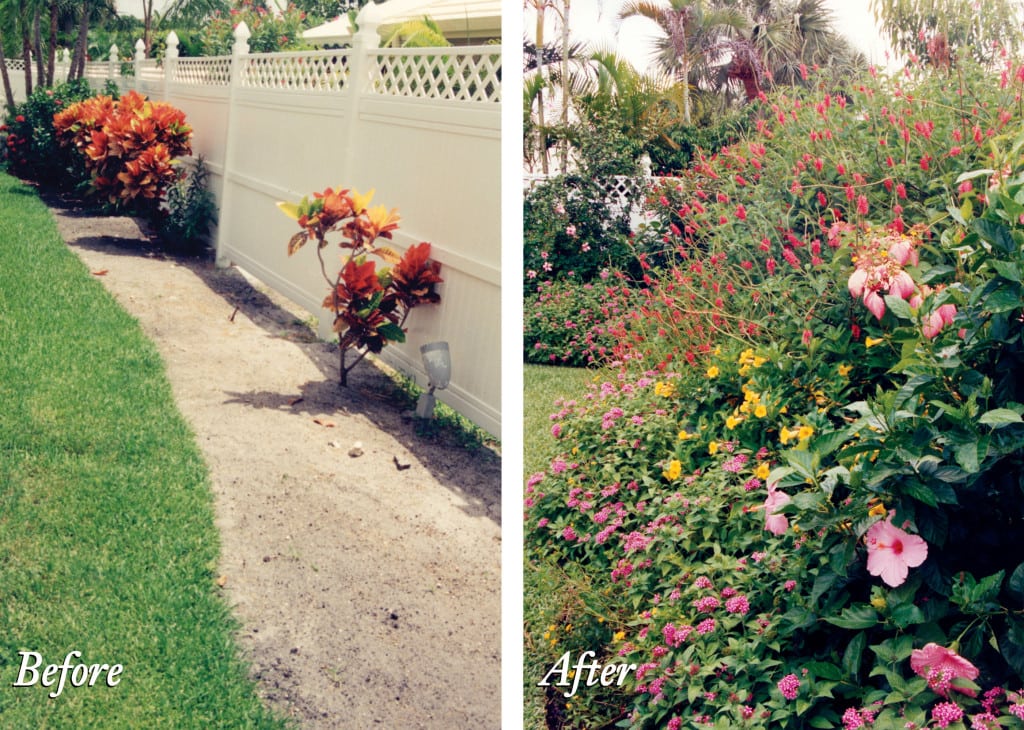 Above: This fence looks rather sad in the 'before' photo. A flower garden, resembling the old English flower borders, creates a beautiful composition in front of this fence located in the Royal Palm Yacht and Country Club in Boca Raton. Plants include pink porterflower, pentas, hibiscus, allamanda, and lantana.
Lots of creative solutions are available for people who want to soften their walls with planters, art, or plantings. I keep my eye out all the time for new products to make outdoor walls really beautiful.
Pamela Crawford designs and installs landscapes and outdoor living areas in Palm Beach County, Florida. Her services include plantings, container gardens, paving, outdoor structures, accessories, and furniture. You can view her work at pamela-crawford.com. Contact her at 561-371-2719 or pamela@pamela-crawford.com. This article is appropriate  throughout Pamela's service area, including Boca Raton landscapes, town of Palm Beach landscapes, Palm Beach Gardens landscapes, Jupiter landscapes, and Wellington landscapes.