How to Hang Bromeliads in Trees in Palm Beach Landscapes
By Pamela Crawford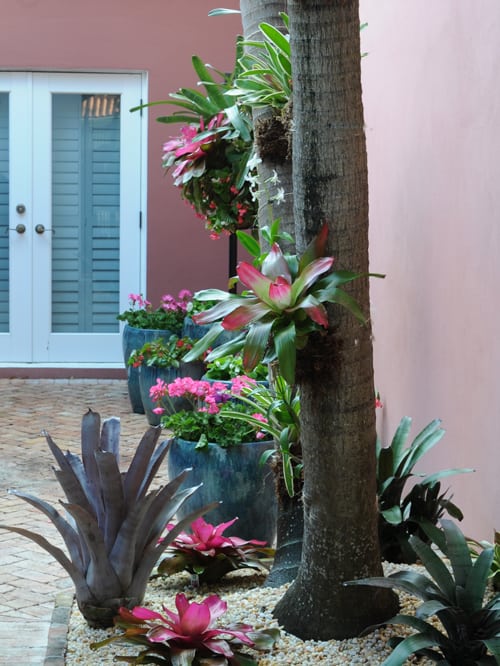 Above: Bromeliads grow both in the ground and attached to trees.

Bromeliads on trees are perfect for the low maintenance, tropical garden for the Palm Beach landscape. To mount on trees, first soak some spaghnum moss in a bucket of water. Remove the plants from their pots and hold their root balls against the tree. Have a friend wring out handfuls of the moss like a sponge and hold them over the roots of the plants. Tie brown string (degradable) around the roots of the plants and the moss to secure the plants to the tree. Over time, some fall off and have to be re-tied. Be sure that the string will not cut into the tree as it grows. The goal is for the roots to train themselves to hold onto the tree without support. This is how most bromeliads grow in nature, and Palm Beach county is an ideal environment for bromeliads.
Pamela Crawford designs landscapes in Palm Beach County, Florida. This article is appropriate  throughout Pamela's service area, including Boca Raton landscapes, town of Palm Beach landscapes, Palm Beach Gardens landscapes, Jupiter landscapes, and Wellington landscapes. 
You can reach Pamela at info@pamela-crawford.com.
This article is taken from:
"Easy Gardens for South Florida" by Pamela Crawford. © 2001  Color Garden Inc.
All rights reserved. No part of this publication may be reproduced or transmitted in any form or by any means, electronic or mechanical, including photocopy, on the internet, recording or any other information storage and retrieval system, without prior permission in writing from the publisher.