How to Remove a Shrub in the Palm Beach Landscape
By Pamela Crawford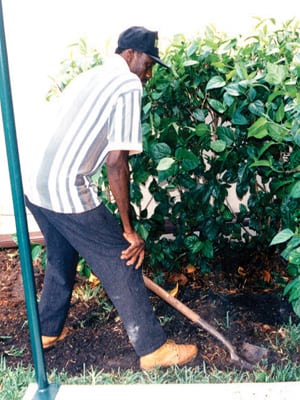 Small shrubs can sometimes be simple to remove – just grab the top of it and pull! But most require more effort than that. Luckily, it is quite easy to learn how to remove a shrub in the Palm Beach landscape.
First, be sure your shovel is sharp. You can do this with a grinder, (about $30) from your local home improvement store. Use the shovel to cut a trench around the base of the shrub. Cut the roots that are uncovered with the shovel or a pair of clippers. Pull the shrubs as far as possible in one direction. Cut the roots on the opposite side. Continue cutting the roots until the shrub comes out of the ground.
Shrubs with large, tenacious root systems, like ficus, and take a lot of effort to remove. Others, like small hibiscus, come out quite easily.
Pamela Crawford designs gardens in Palm Beach County, Florida. This video is appropriate  throughout Pamela's service area, including Boca Raton landscapes, town of Palm Beach landscapes, Palm Beach Gardens landscapes, Jupiter landscapes, and Wellington landscapes.