Spectacular, Low Maintenance 

Color for Boca Raton Landscaping 
 Colorful landscapes, pools, hardscape, lighting, pottery and outdoor living elements.

 Custom designed and installed.

Who is Pamela Crawford?
Award-winning designer of landscapes and garden products.

Author of 11 bestselling gardening books, 5 specifically on Florida plants.

Feature articles of her work have been published in over 28 national magazines.

Graduated with honors with a Master's Degree in Landscape Architecture.

Has completed over 1600 landscapes in Palm Beach County.
We love color, but also new design trends, pools, and front yard makeovers. Here are some examples:
1. Four New Trends for Boca Raton Landscape Design
Our landscape designers are constantly searching the world for new and fresh design concepts. Here are some of our favorites.
A. Clean Lines
Clean, simple lines are one of the most popular trends in the Boca Raton landscape. Our landscape designers created this tropical landscape (below) with a Mexican pebble border that unifies the clean lines. The focal point is comprised of the over scaled silver plants in the foreground.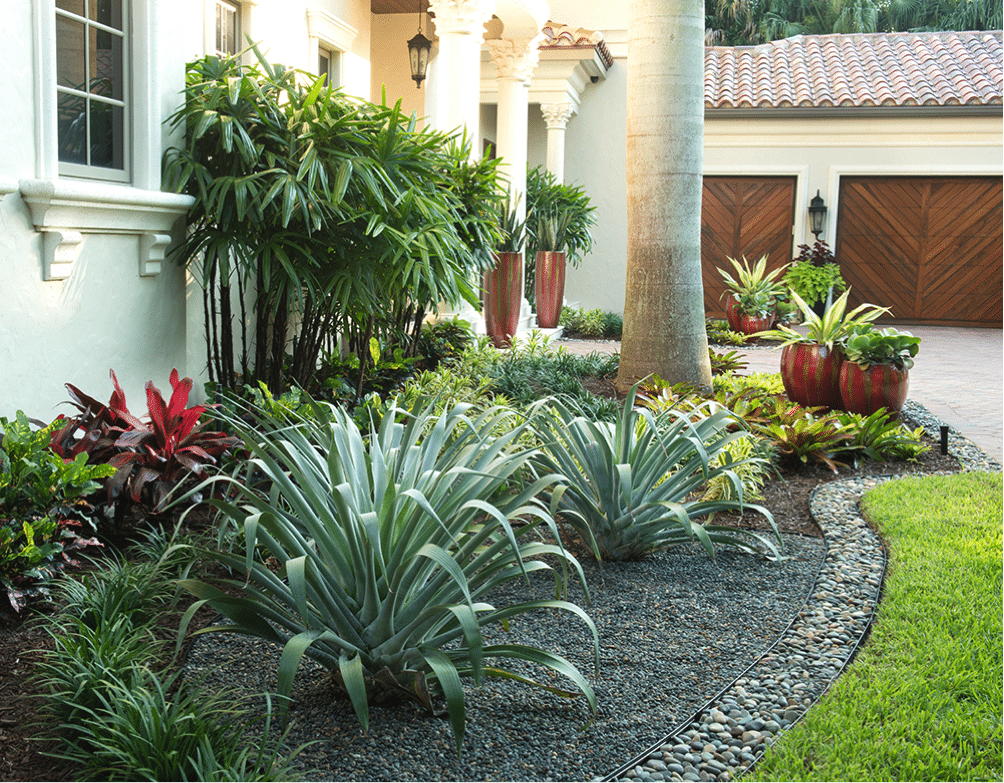 B. Tropical, Spiky Plants
Another key trend for Boca Raton landscape designers is the use of tropical, spiky plants instead of green, layered hedges. Hedges can be used in northern landscapes, and most Boca Raton homeowners want landscape designers who can create a lovely, tropical look.
Our professional landscape designers created this tropical plan (below) to reflect Boca Raton's unique climate and style. There are no green hedges in this landscape plan! It would certainly not be mistaken for a New York landscape!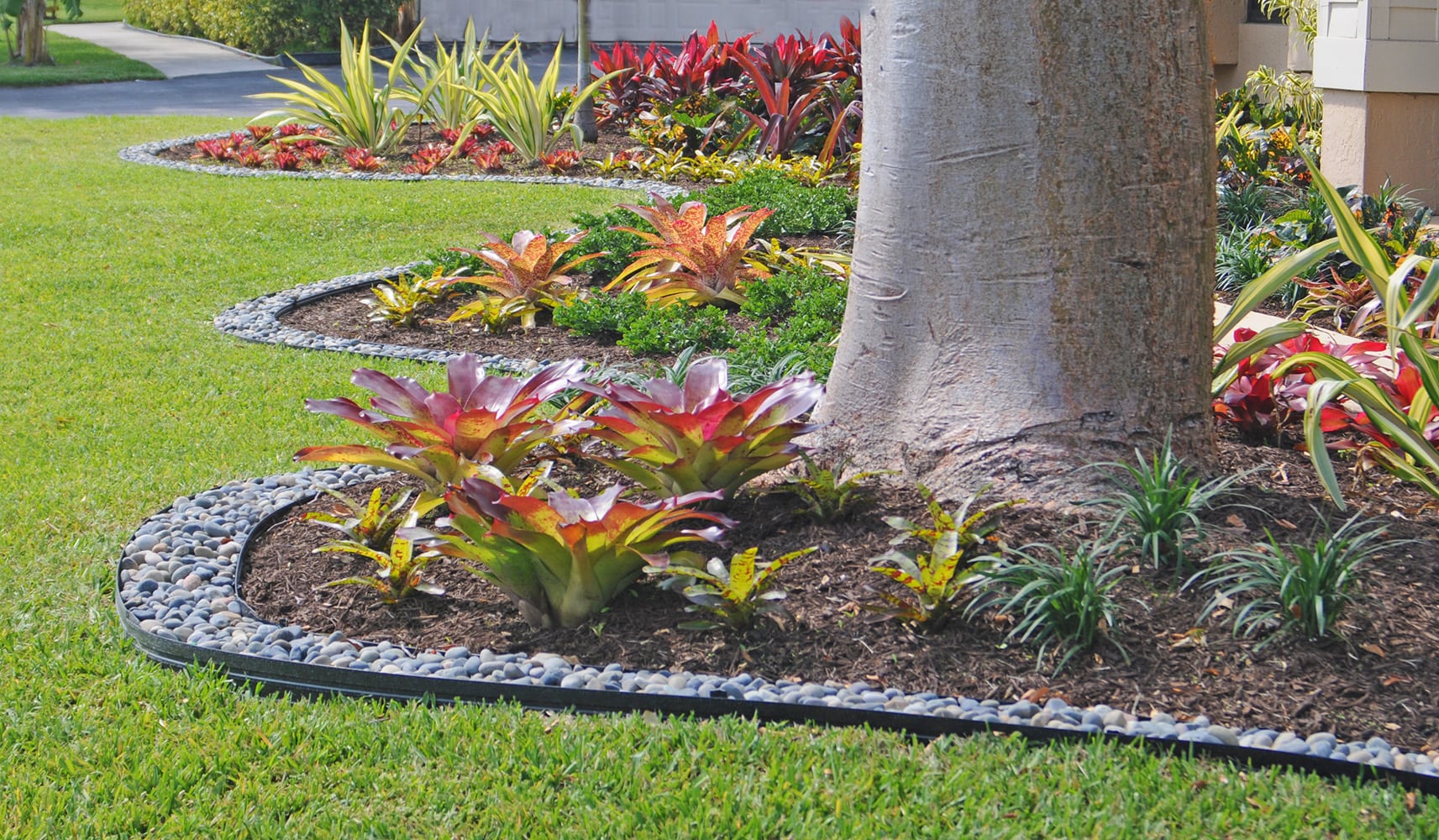 Ask us for our landscaping ideas for your home and we will love showing them to you!
C. Lasting Color
Color is our primary focus. Historically, Boca Raton landscape designers used annuals – little flowers that last one season – for years as the primary source of landscape color. Pamela Crawford, on the other hand, spent 20 years testing landscape plants to find the ones that gave the most color for the longest period of time. She has written several books on the topic. Her professional landscape designers are experts in these plants, and create landscape design plans with plants that burst with color and last for 10 to 20 years.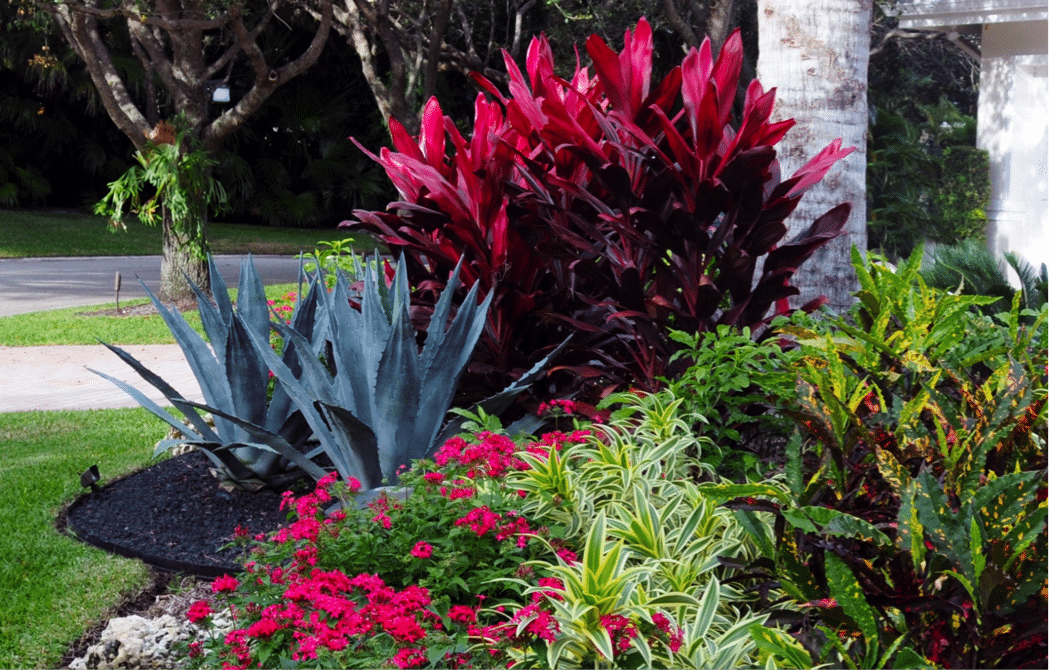 D. Container Landscaping using Pottery
Pamela Crawford wrote 5 books on container gardens. She worked with the top 10 pottery importers in the US to choose the pots for her books. Her knowledge is encyclopedic!
Availability of gorgeous Asian pottery has exploded in the last decade, and our professional landscape designers use them in almost every landscape plan. These blue pots (shown, below) say 'welcome' to visitors and the homeowner, adding a strong focal point to a small space.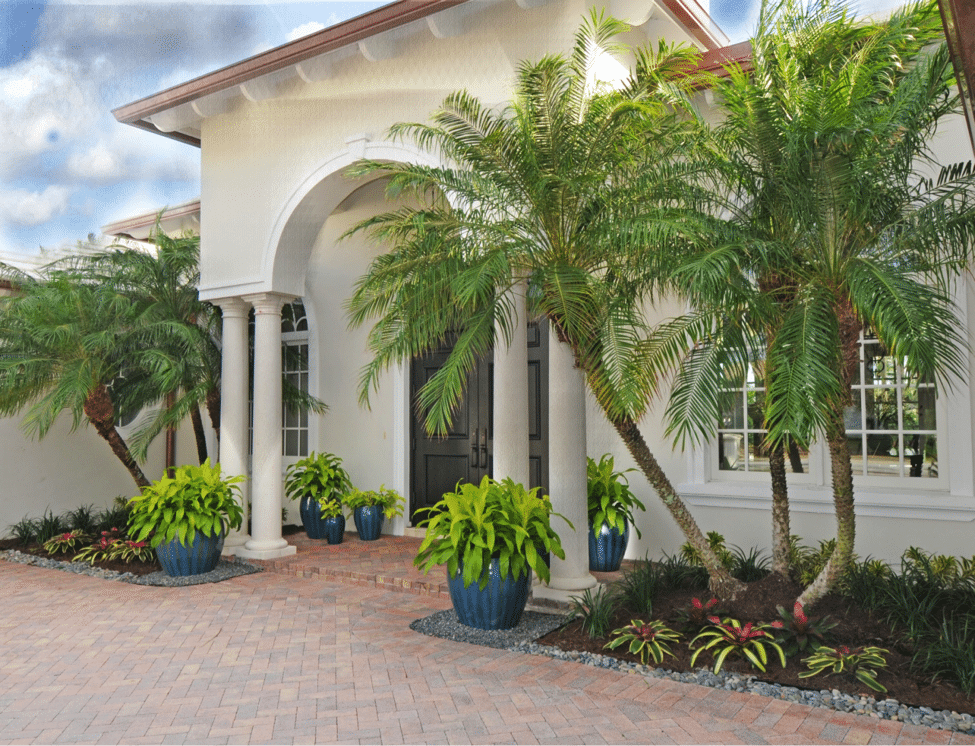 Along with new trends, we absolutely love pool landscapes!
2. Spectacular Pool Landscape Designs for Boca Raton
About 75% of our job include pool area landscapes, with 45% including pool remodels or replacements. Our team handles the entire design and installation of pools, paving, furniture, planters, landscape, and shade structures. Sit and relax as we transform your pool area into a resort-like paradise!
Pools have changed through time from being a hole in the ground containing water to being the central focus of outdoor living in the Boca Raton landscape. Most Boca Raton homes feature large windows overlooking the pool area, so they also become a major feature of the landscape designs as viewed from inside the house.
The owner of this Boca Raton courtyard home hated the stark landscape around the pool, as shown in the 'Before' photo. He wanted a landscape renovation of this courtyard to create the feel of 'a pool in a garden.' Our landscape designers chose travertine to cover spaces needed for furniture and foot traffic. The rest of the pool deck became tropical gardens. The pool was refinished to give it sparkle.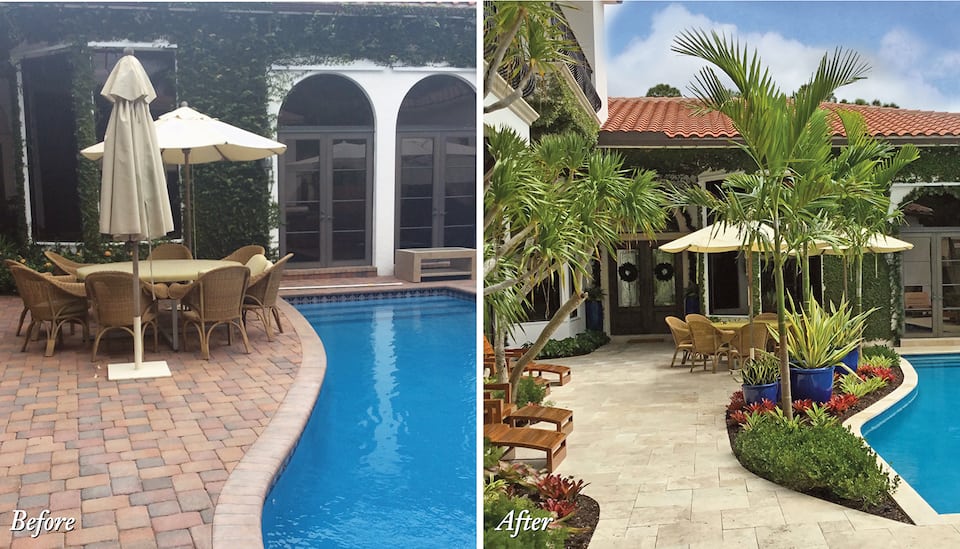 Pool Landscaping Boca Raton: Think of Your Pool Area as a Resort!
This pool owner wanted to enlarge the pool to accommodate a sun shelf and spa. He also wanted the blue planters on the far side removed for a clean-lined look. Our Boca Raton landscape designers chose a simple, neutral mosaic tile, ivory travertine, and a heavenly blue color for the pool interior. Our landscape designers followed the client's request for a clean, tropical landscape across the pool.

Landscape Design Boca Raton: Our Landscape Designers design Pool Plantings with the Perfect Flow!
Another view of the pool shows overgrown vines in the 'Before' photo. Our landscape designers had the vines removed and clean-lined pottery installed instead. The color of the pottery coordinates with the pool tile.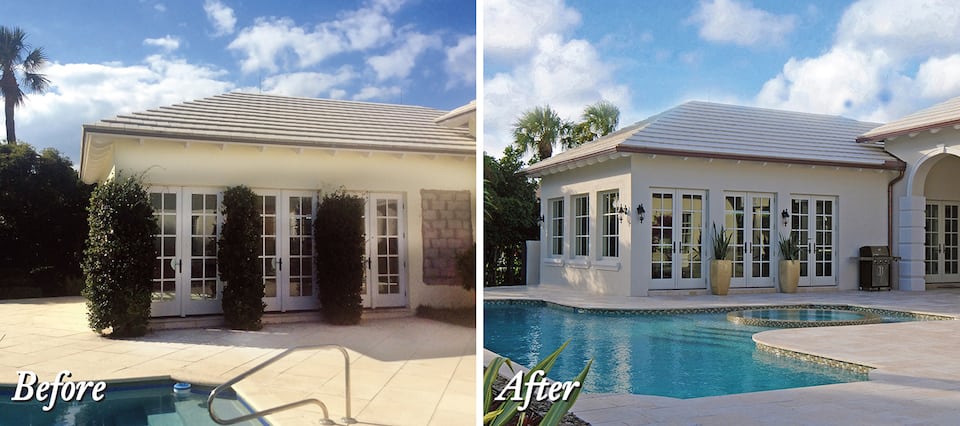 Garden Planning Boca Raton: Sometimes it's Easy to Completely Transform your Pool Area.
Sometimes, it doesn't take much to completely change a pool space. Just some simple changes to the landscape around the pool did the trick at this Boca Raton pool. The 'Before' picture shows a sad mess of overgrown plants. Our professional landscape designers added dramatic pottery, a statue, and some complimentary plants for a simple landscape renovation with major impact.

3. Want Curb Appeal? Check out these Landscape Renovations of Boca Raton Front Yards.
Front yard landscape renovations in Boca Raton should fulfill two goals: To dramatically improve the appearance of the home and express the homeowner's personal style.

This estate home (above) featured layered hedges that are typical of northern landscapes. The homeowners looked at many of our landscape ideas and decided on a tropical, informal look that would complement the house and give it a Boca Raton landscape feel. Once the landscape installation was completed, the owners loved it! Since the house had a formal look, our professional landscape design included pebble borders that unify the diverse plant material. Not only does the new landscape make the house look better, but the curb appeal is terrific!

The owner of the home shown above wanted a tropical, casual look filled with color. We showed her many front yard landscape ideas, and she chose the plants and colors she liked best. She was thrilled with the finished product of this Boca Raton landscape renovation.

The owners of this home wanted a clean-lined, tropical, colorful look that would complement their home. After much deliberation about possible landscape plans, they decided on a pink and silver color scheme to complement the colors of the home. The love the new landscape and smile every time they pull up the driveway! And look how much better the house looks. Palm, bromeliads, and colorful, tropical shrubs combine beautifully to show the house off perfectly.
Great Front Yard Landscape Designers of Boca Raton Don't Forget the Pots!
And don't forget to add pottery to the front entry. Pots not only beautify the space, but say a warm welcome to all your guests. Pottery is our Boca Raton clients' favorite item. As a professional landscape designers, we love it when are clients are excited at the completion of the landscape installation.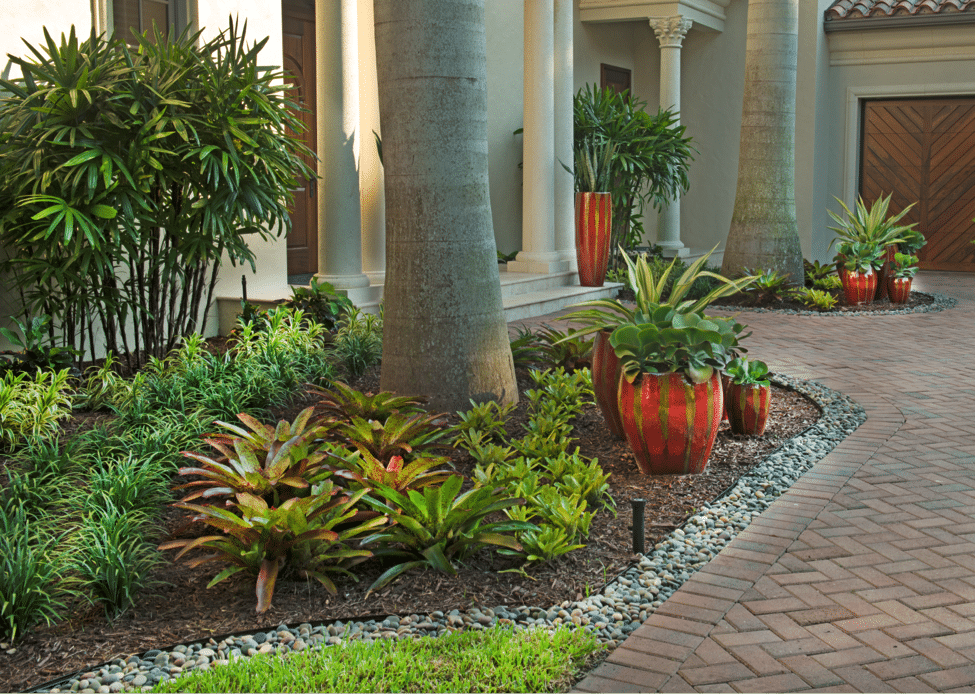 What's in it for You?
Express your personal style with Pamela Crawford's design process.

Save time and money with low-maintenance landscapes.

Relax and enjoy as our professional installers put it all together.

Own the best pottery in the world, carefully coordinated with your landscape.

Transform your pool and outdoor living area into a resort-like, tropical paradise.
Call 561-371-2719 to schedule your free home consultation. We would love the opportunity of showing you the potential of your landscape!