By Pamela Crawford
Outdoor living structures range from quite simple to very elaborate in the Palm Beach landscape. Simple structures are usually made of wood.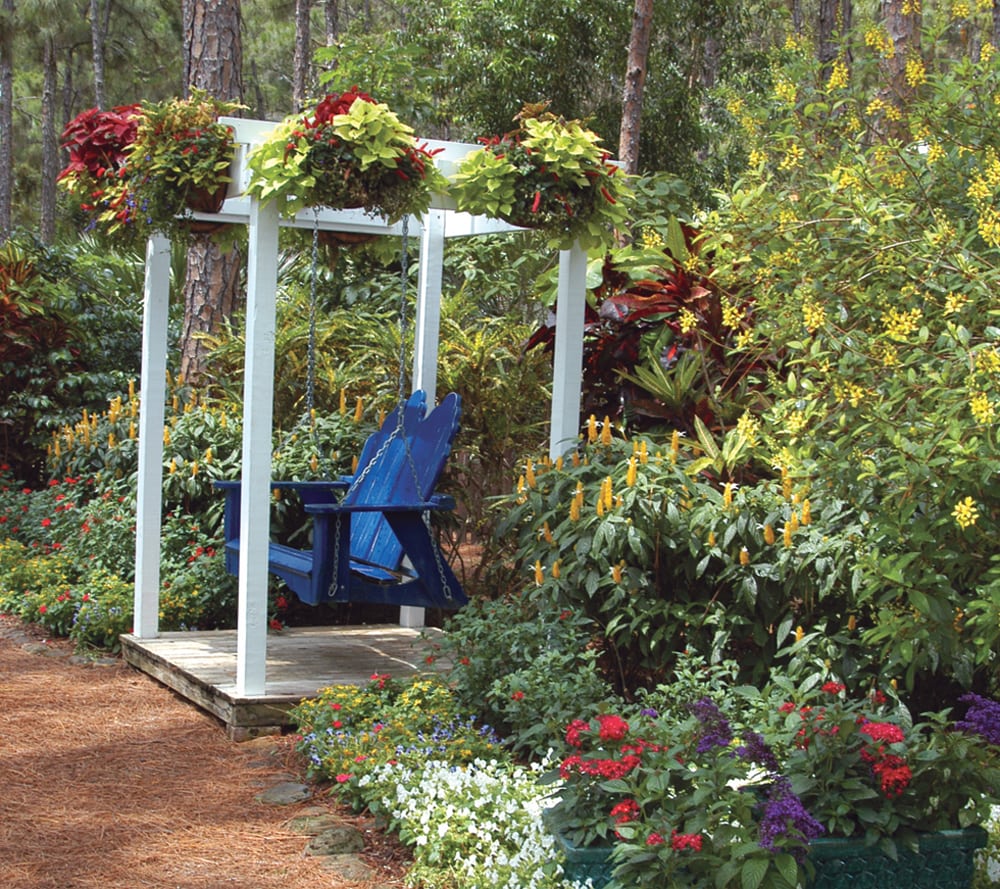 Above: This swing is an example of a simple outdoor living structure. It has two functions: first and most obvious, to swing in; second, to look at. Picture this garden without the swing and it wouldn't be anywhere near as pretty. The half baskets attached to the top of the swing are side-planted, a planting system I designed for kinsmangarden.com. The advantage of side planting is that you plant both the top and sides of the baskets so that they appear full immediately after planting. Click here to see a 3-minute overview of this planting method.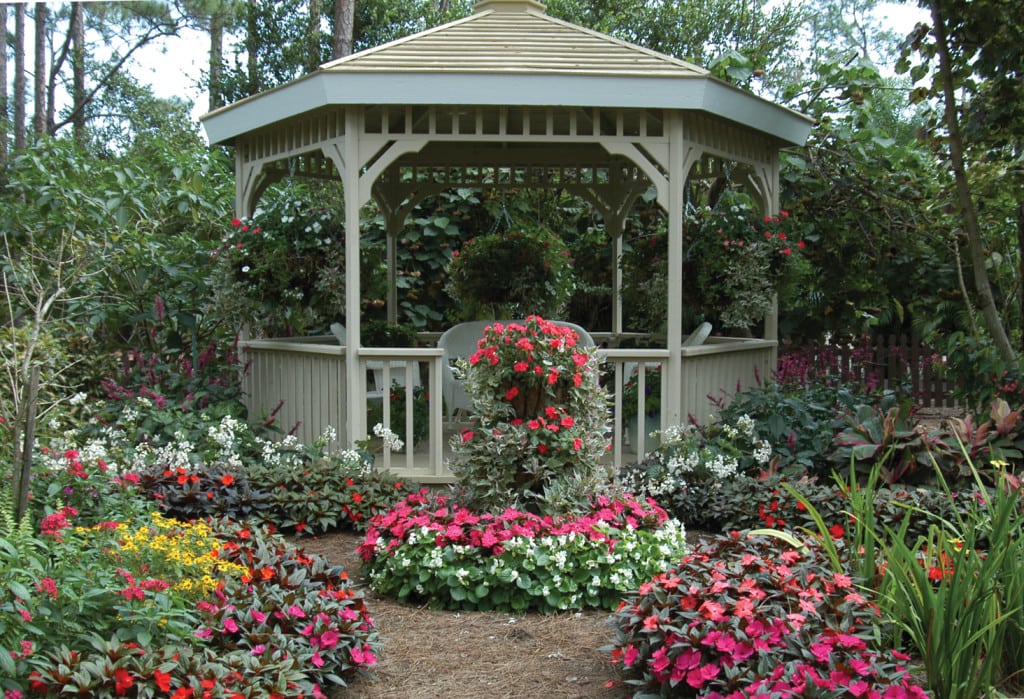 Above: Gazebos are usually fairly easy to install since most of them are either prefabricated or made at a shop and simply delivered to your home. The gazebo forms the focal point of this garden. The furniture, flowers, and container gardens mirror the same traditional flower garden theme. Click here to watch a video showing how to design container gardens like the ones shown in this gazebo.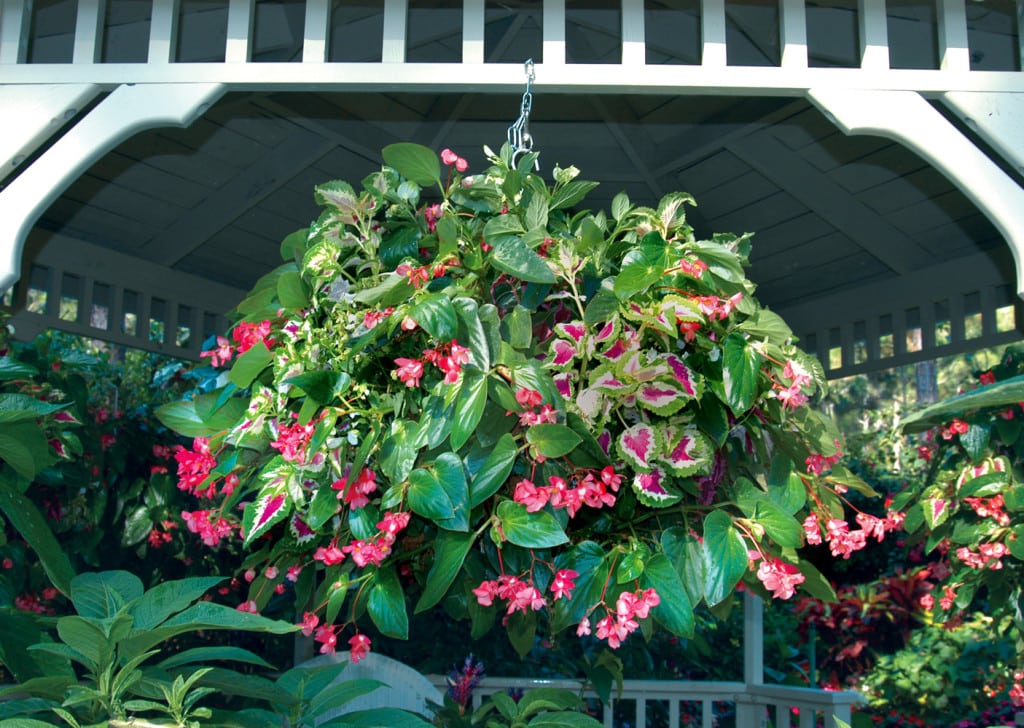 Above: The hanging basket repeats the flower garden theme. Click here to see a planting demo of this side-planted basket.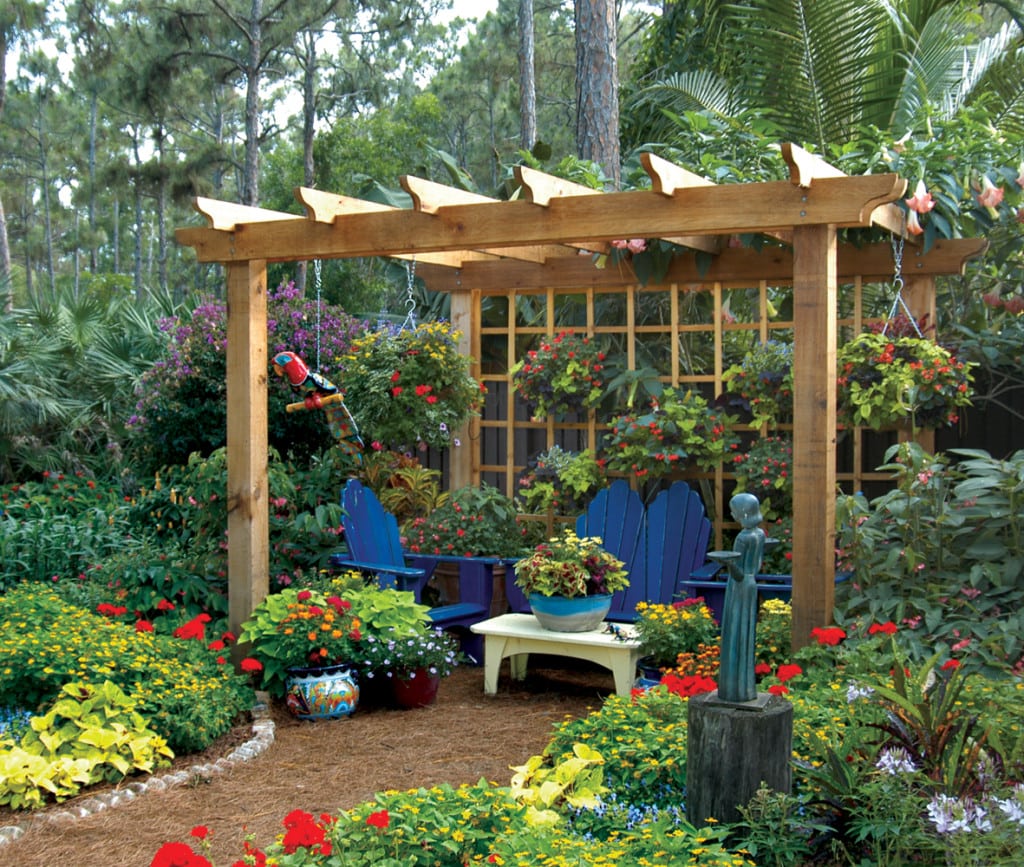 Above: A pergola is defined as an outdoor structure that has post supporting a roof and a trellis wall to support climbing plants. The pergola is made of cedar, which lasts for many years in the Palm Beach landscape. The posts are 8″ x 8″, a chunky size which is in proportion to the size of the pergola. The furniture is made of pine, but is such high-quality that the manufacturing company offers a full, thirty year warranty, even in the Palm Beach landscape!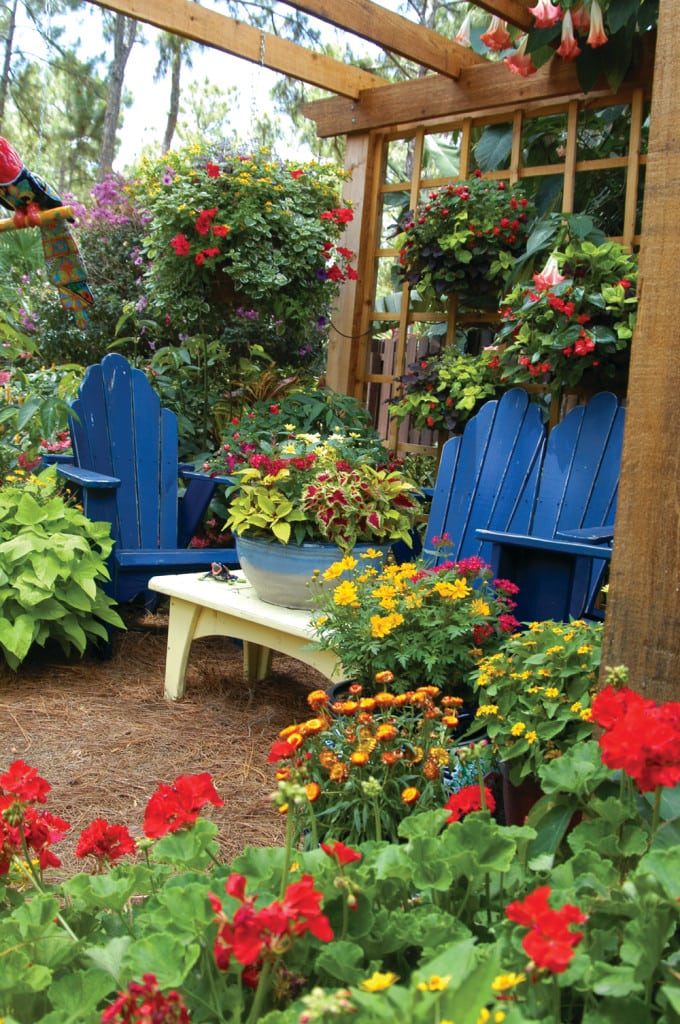 Above: Container gardens are an important part of every garden structure I design. Click here to see the most popular video I've ever made (over 22,000 views so far!) shows how to plant a simple bowl, like the one shown here on the table.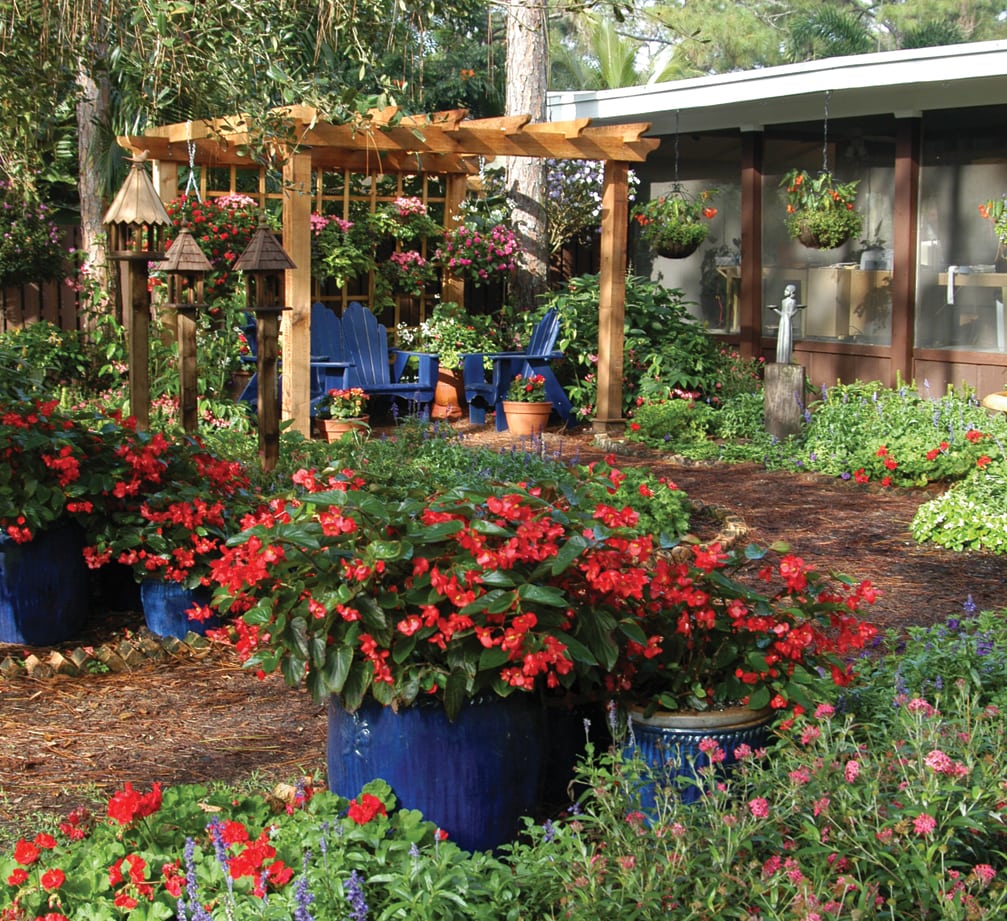 These cobalt blue containers mirror the color of the furniture.
Pergolas work well in any style garden. Here's one for a tropical pool garden.
Tropical Asia was my inspiration in designing this garden. Palms and large-leafed tropical plants accent the scene. Container gardens (of course!) and teak furniture fill the pergola.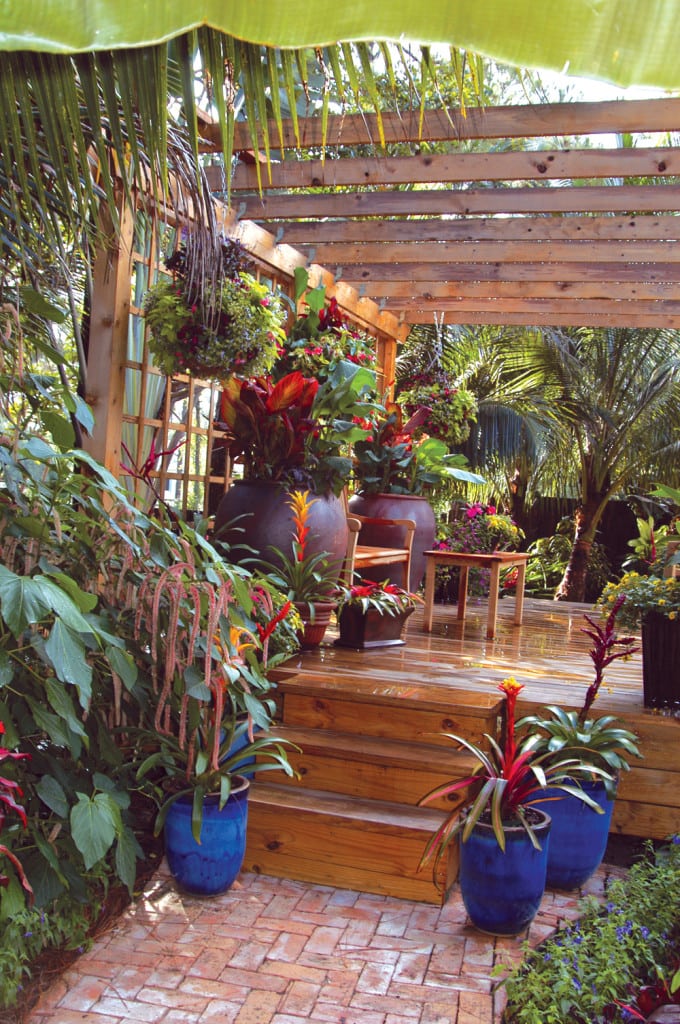 Above: The south side of the gazebo includes an eclectic collection of planters filled with tropical plantings and annual flowers.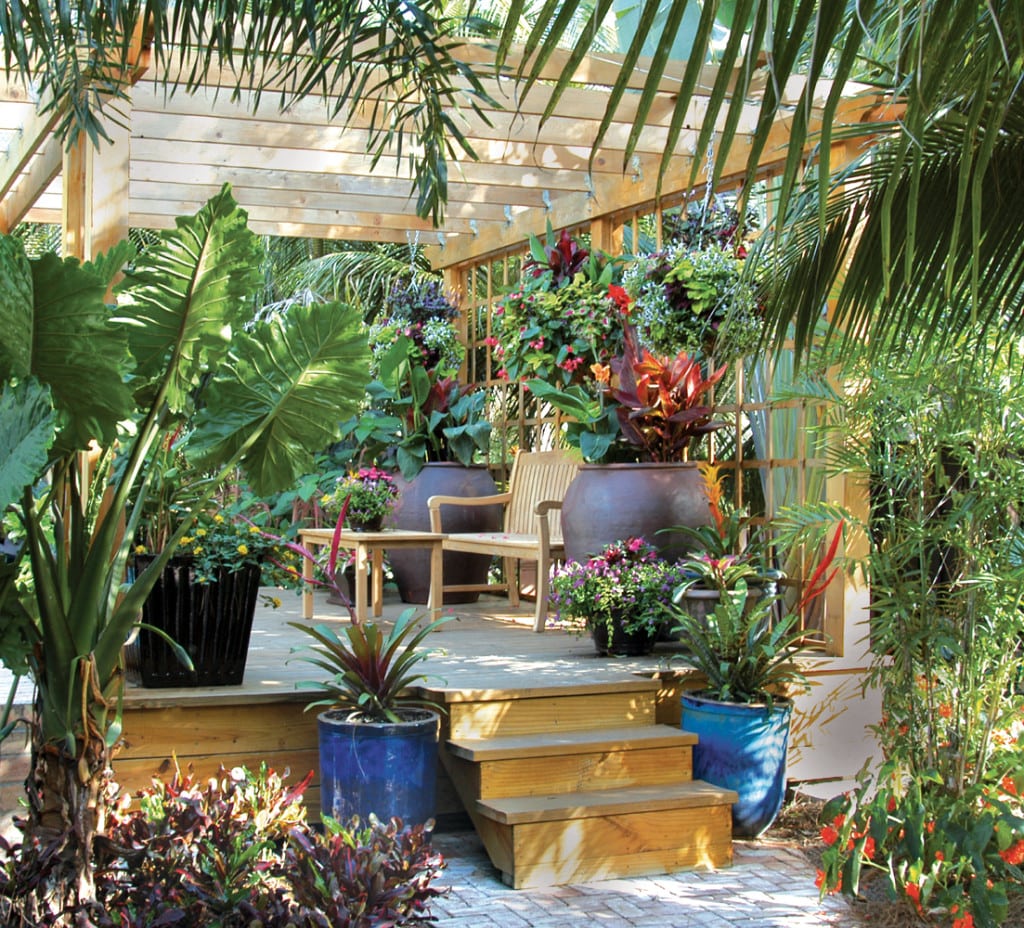 Above: The north side of the pergola follows the same theme.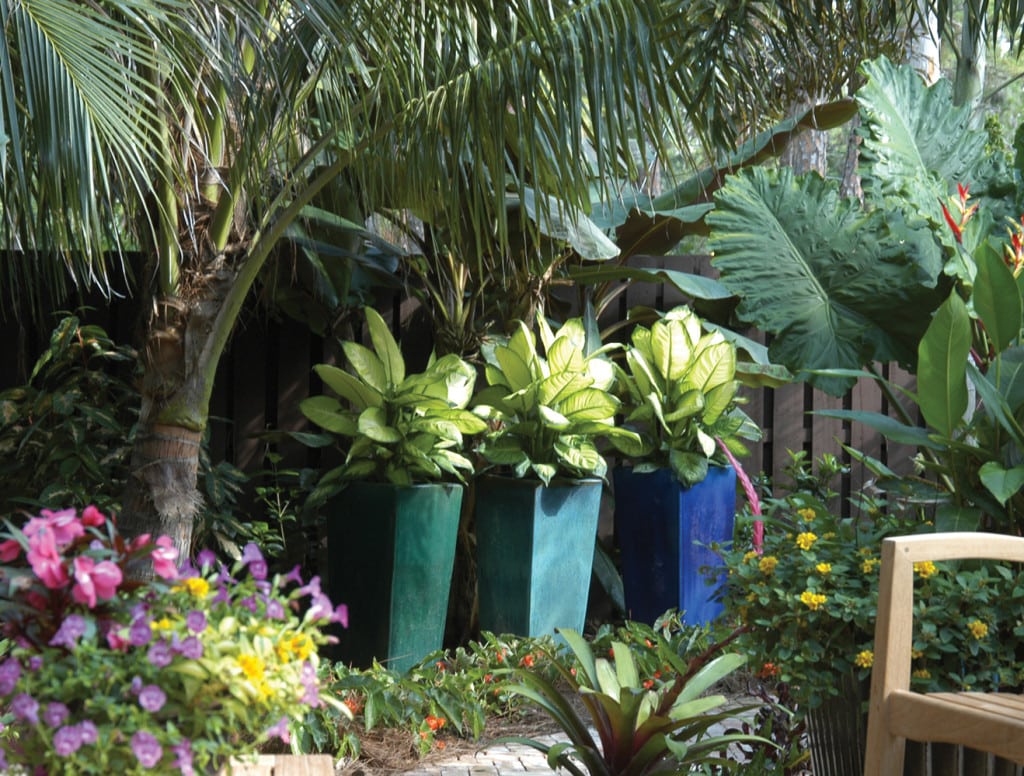 These planters were made in tropical Asia, which follows the theme of the garden. They are so beautiful that they don't need elaborate plantings. Simple dieffenbachia plants do the trick.
Pergolas in tropical landscapes can also have a clean-lined look.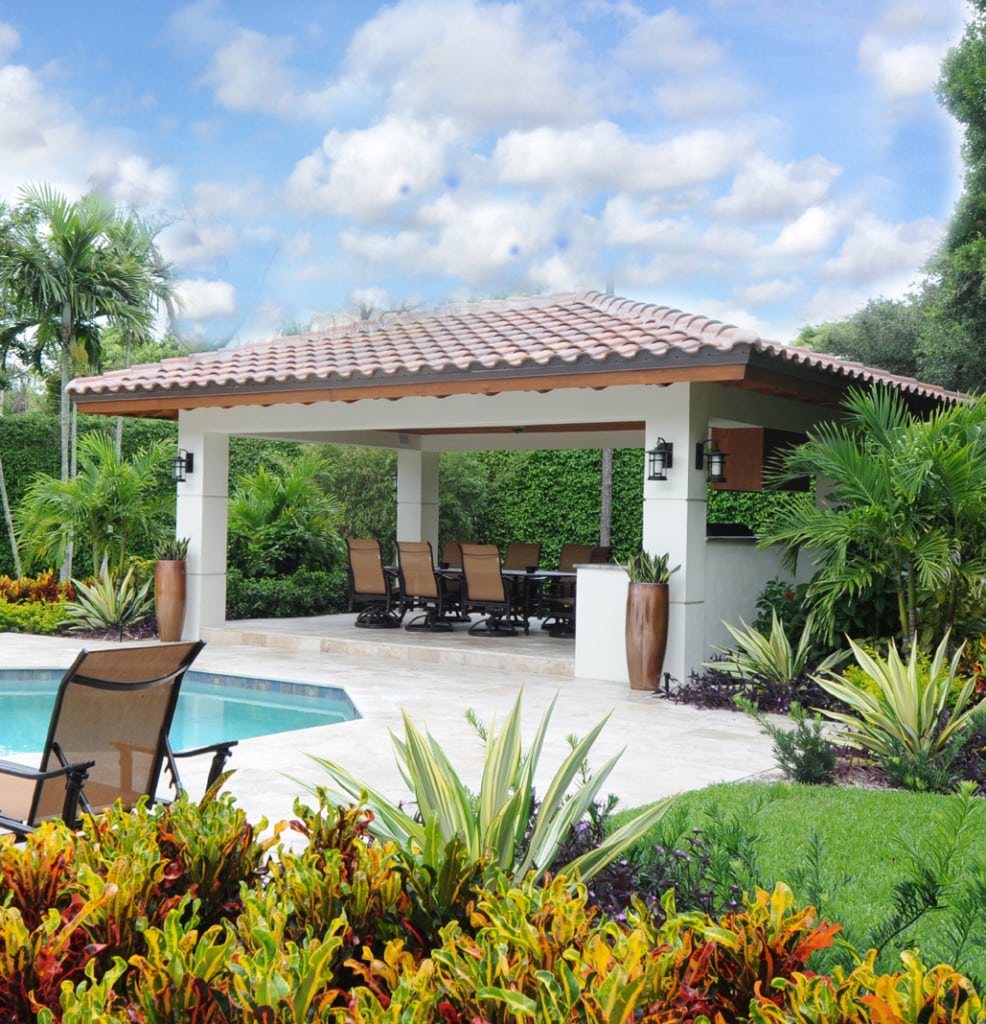 Above: This pergola is made of CBS construction to tie it in perfectly with the construction material used in the adjoining home. The couple who own the home had different landscape tastes: he wanted a manicured look and she wanted a tropical look. I pleased both of them by using tropical plants with a clean-lined look bordered by neat, small hedges to achieve a manicured look.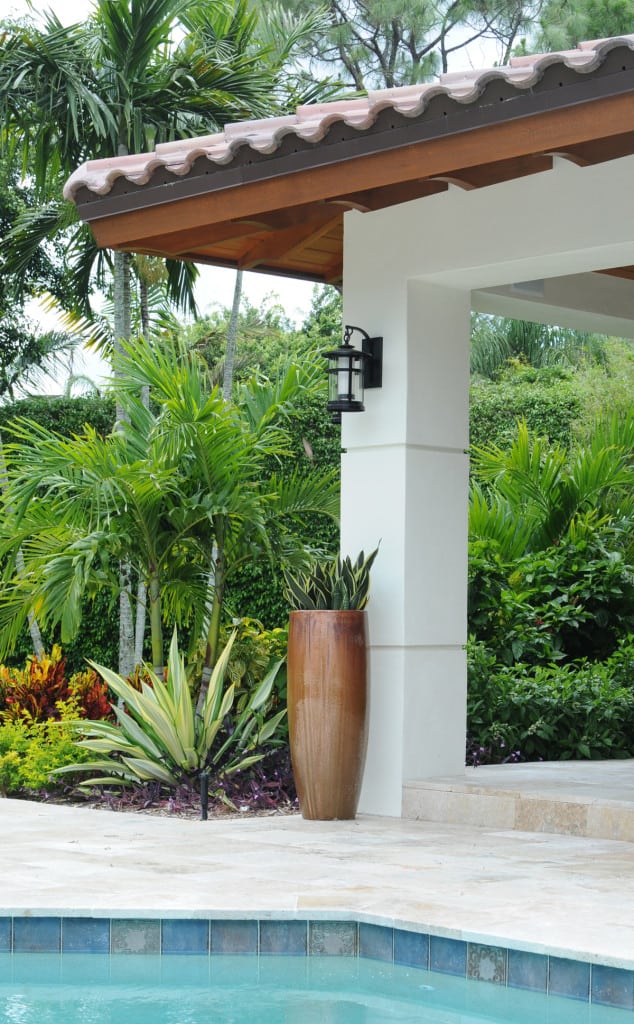 Above: The planter coordinates with the copper-colored furniture. Planted with sanseveria, the container garden has a modern look.
Outdoor living structures for the Palm Beach landscape can reflect any style as long as you give it a sense of fit by coordinated it's style with nearby structures, the surrounding garden, and the furniture and accessories placed inside.
Pamela Crawford designs and installs landscapes and outdoor living areas in Palm Beach County, Florida. You can view her work at pamela-crawford.com. Contact her at 561-371-2719 or pamela@pamela-crawford.com. This article is appropriate  throughout Pamela's service area, including Boca Raton landscapes, town of Palm Beach landscapes, Palm Beach Gardens landscapes, Jupiter landscapes, and Wellington landscapes.