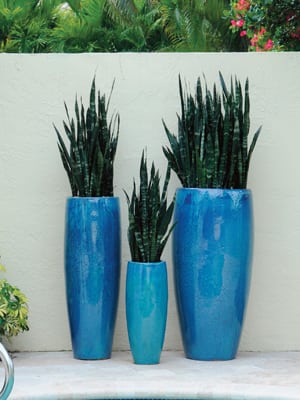 Container Garden for a Delray Beach Pool Landscape
Pamela Crawford, container gardening guru, takes you through her decision of which pots to choose for this container garden for a Delray Beach pool landscape.
Use pots that coordinate with their surroundings. Since these pots are placed by the pool, Pamela coordinated them both with the water and with the pool tile. This art pottery features a translucent glaze of many different shades of blue, which is perfect for this container garden for a Delray pool lanndscape. Each set is a one of a kind.
These pots are quite large, with the largest one measuring a full four-feet tall. The shear size of the pottery gives them impact in this small pool area.
Pamela also designed the pool paving in her trademark travertine. The natural stone looks beautiful with the hand-made pots in this container garden for a Delray Beach landscape.
The pots are planted with sanseveria, or snake plants. They live happily in the Palm Beach landscape on just rainwater. They also feature a vertical growth habit, which is quite important since this container garden is placed in such a small spot.
This container garden works well throughout Pamela's service area of Palm Beach county, including Boca Raton landscapes, town of Palm Beach landscapes, Palm Beach Gardens landscapes, Jupiter landscapes, and Wellington landscapes.