How to Install a Post or Stand for a Basket (Video, 3:44)
By Pamela Crawford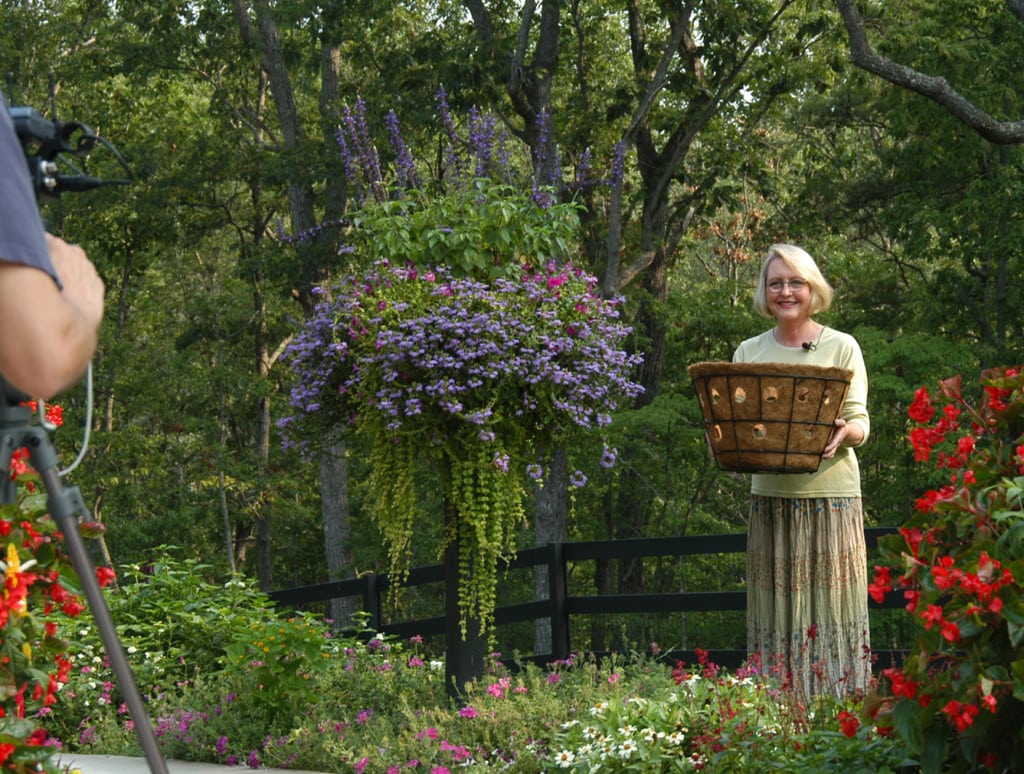 The star of Pamela's side-planting system are her baskets on wooden posts, also called columns. Learn how to install a post or stand for a basket  in this video.
Assembling and Installing Border Columns or Posts for Baskets
Order a border column kit from kinsmangarden.com.
Tools needed:
Screwdriver, electric drill, sledge hammer, small level, flat piece of scrap wood (a 6" x 6" piece of a 2" x 6" board works fine; it's easy to find one at your local home improvement store.)
Check to be sure you have all the components:
A. Steel disk assembly for top of column
B. Black wooden column
C. Steel ground spike
D. Bag of hardware (not shown)
To assemble and install:
1. Put the piece of scrap wood on top of the square column so the sledge
hammer doesn't damage the metal column. Drive the ground spike into the
earth with a sledge hammer until only the square column holder is above . the surface. Check to be sure it is level after each few hits with the hammer
both vertically and horizontally. This keeps the column from being crooked.
2. Place the wooden column into the top of the ground spike.
3. Drill starter holes into the column through the holes in the ground spike.
4. Insert wood screws and tighten.
6. Place steel disk assembly on top of the column.
7. Insert wood screws, and tighten.
Pamela Crawford designs unique planters for kinsmangarden.com and writes gardening books. She is considered one of the best-known container garden professionals in the United States. This video is appropriate for all of that area.
She also designs landscapes in Palm Beach County, Florida. This video is appropriate  throughout Pamela's service area, including Boca Raton landscapes, town of Palm Beach landscapes, Palm Beach Gardens landscapes, Jupiter landscapes, and Wellington landscapes. These subtropical areas have some of the longest growing seasons for annuals in the continental United States and are ideal for container gardens.
This article is taken from 'Instant Container Gardens' by Pamela Crawford.
Copyright ©2007, Color Garden, Inc.
All rights reserved. No part of this publication may be reproduced or ­transmitted in any form or by any means, electronic or mechanical, including photocopy, recording, internet, or any other information storage and retrieval system, without prior permission in writing from the publisher.