Summer is the Best Time to Plant Palm Beach Landscapes
By Pamela Crawford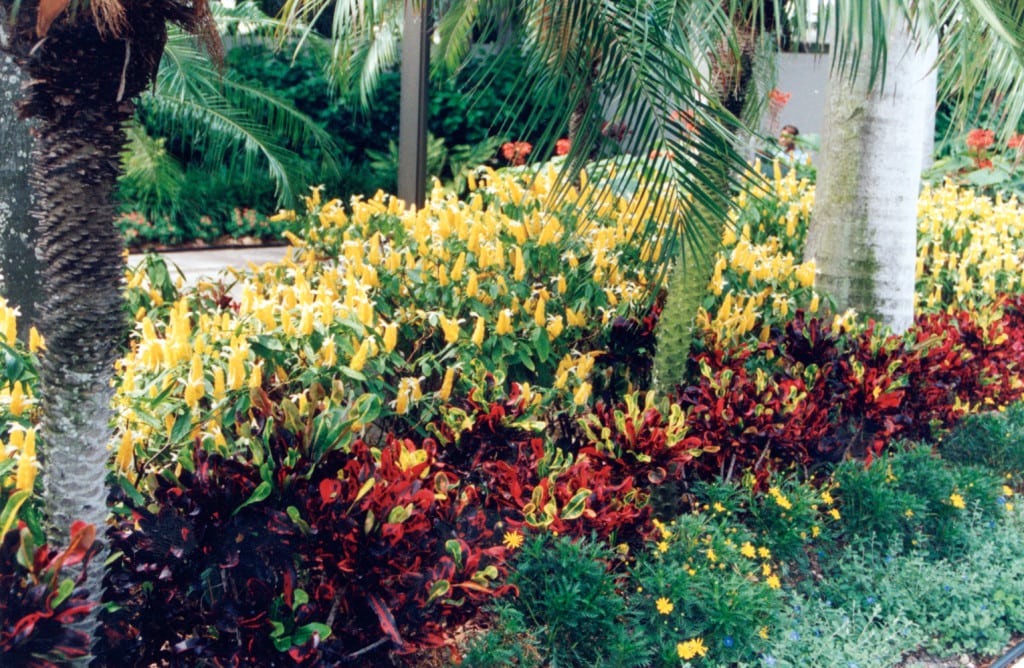 I use plant material that is naturally well-adapted to the Palm Beach landscape like these crotons and shrimp plants. Although we plant all year, summer is the best time to plant Palm Beach  landscapes.
Although planting is done all year in the Palm Beach landscape, summer is the best time to plant. Most people think that  cooler weather offers better planting conditions than warmer weather. This is a common misconception, true only for winter annuals, like impatiens. The plants I use are acclimated for the subtropics and like the summer heat and rain. The ideal planting goal is for the roots to grow immediately after planting. The heat and rain we receive in summer throughout the Palm Beach landscape cause the plant to grow faster, pushing the roots into the surrounding soil. Plants need water for establishment, and summer is when we have natural water. The only negative to summer planting is that, if we have a dry spell, you may have to water  twice a day for a few days to keep the plants well hydrated. However, the likelihood of a dry spell in summer is low.
Winter is the most common planting time in the Palm Beach landscape, however, probably because of the lack of knowledge couples with the fact that people are much more comfortable outside in our winters. Obviously, the plants do well when planted in winter. However, they establish and grow slower. Most people want their gardens to look their best in winter, when they spend most time outdie and do the most entertaining. Most gardens do not look filled in immediately  after planting. They look their best after their first summer in the ground.
Another risk of winter planting is the likelihood of cold damage in the Palm Beach landscape. Cool weather, particularly when the temperatures dip into the mid to low forties, can damage the leaves on newly planted plants. Older, more established plants hold up better to cold weather. The northern and western parts of the county are most susceptible to cold damage, particularly wide-open spaces.
Pamela Crawford designs landscapes in Palm Beach County, Florida. This article is appropriate  throughout Pamela's service area, including Boca Raton landscapes, town of Palm Beach landscapes, Palm Beach Gardens landscapes, Jupiter landscapes, and Wellington landscapes.
You can reach see Pamela's work at pamela-crawford.com or contact her at [email protected].
This article is taken from:
"Easy Gardens for South Florida" by Pamela Crawford. © 2001  Color Garden Inc.
All rights reserved. No part of this publication may be reproduced or transmitted in any form or by any means, electronic or mechanical, including photocopy, on the internet, recording or any other information storage and retrieval system, without prior permission in writing from the publisher.