Low-Water Container Garden (1:17)
By Pamela Crawford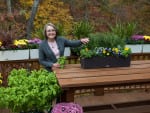 Low-Water Container Garden is a quick video that shows you the  results of some of Pamela Crawford's trials of the Lechuza self-watering planters. Since watering is the most time-consuming chore of container gardening, Pamela was eager to test a method that cut down on that onerous chore. She was pleasantly surprized to learn that the Lechuza system saved about one-half of the watering time.
Pamela Crawford is considered one of the best-known container garden professionals in the United States. This video is appropriate for all of that area. 
She also designs landscapes in Palm Beach County, Florida. This video is appropriate  throughout Pamela's service area, including Boca Raton landscapes, town of Palm Beach landscapes, Palm Beach Gardens landscapes, Jupiter landscapes, and Wellington landscapes. These subtropical areas have some of the longest growing seasons for annuals in the continental United States and are ideal for container gardens.