Spectacular Container Garden (2:02)
By Pamela Crawford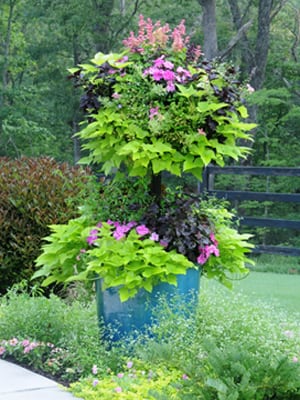 'Spectacular Container Garden' is a fabulous video showing Pamela Crawford's own garden when it was planted for a television episode of GardenSmart TV.
The star of the show is the huge flower balls using a planting method called side planting. Pamela invented this system with a variety of different types of supports for the baskets.
The baskets shown here are supported in 'Basket Column Kits for Large Pots' from kinsmangarden.com. This support system secures the large, heavy baskets securely to posts that go through the pot to a steel ring on the ground under the pot.
This show features a variety of different glazed planters, some aqua and others Mexican Talavara pottery. Pamela shows how she coordinates the plants with the planters, a key to container garden success.
Join Pamela for an unforgettable floral display that you can recreate at your home or office.
Pamela Crawford designs unique planters for kinsmangarden.com and writes gardening books. She is considered one of the best-known container garden professionals in the United States. This video is appropriate for all of that area.
She also designs landscapes in Palm Beach County, Florida. This video is appropriate  throughout Pamela's service area, including Boca Raton landscapes, town of Palm Beach landscapes, Palm Beach Gardens landscapes, Jupiter landscapes, and Wellington landscapes. These subtropical areas have some of the longest growing seasons for annuals in the continental United States and are ideal for container gardens.
This article is taken from 'Instant Container Gardens' by Pamela Crawford.
Copyright ©2007, Color Garden, Inc.
All rights reserved. No part of this publication may be reproduced or ­transmitted in any form or by any means, electronic or mechanical, including photocopy, recording, internet, or any other information storage and retrieval system, without prior permission in writing from the publisher.